Stormwater Monitoring Project

Objective: 
To measure how much pollution from stormwater actually washes into Puget Sound from streets and lawns of Anacortes.
This project will have approximately twenty citizen science volunteers who will work about 2 hours each per month in the data gathering process. A volunteer, or team of two volunteers, are assigned 5 outfalls to take water samples from and measure with laboratory water quality equipment. The state Department of Ecology has established safe limits on all six measurements. Volunteers will measure the water samples and record the results.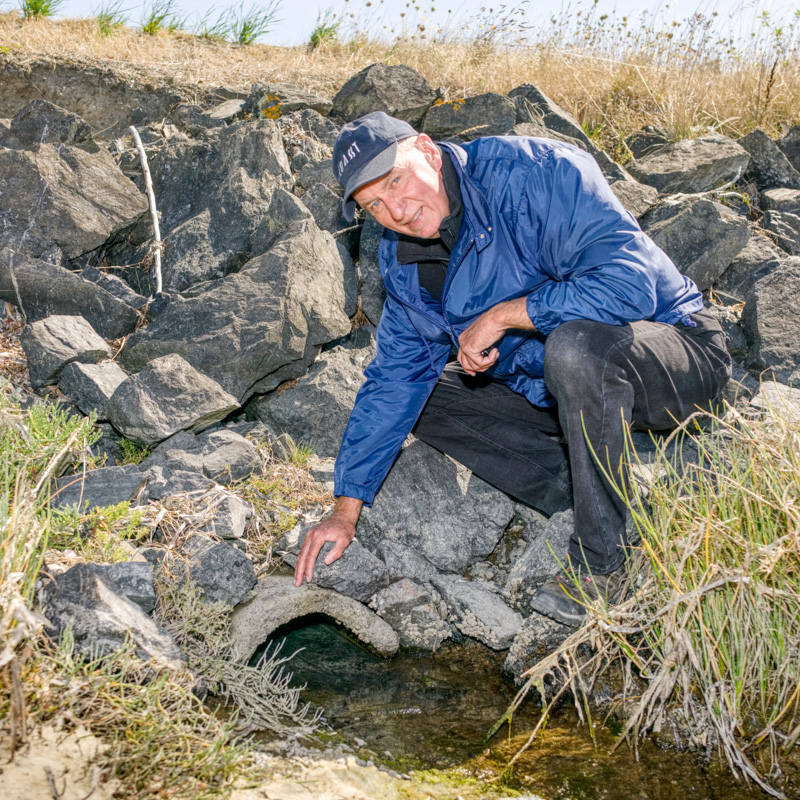 If a stormwater outfall exceeds any of the State limits the volunteer notifies the City of Anacortes Stormwater Manager, Diane Hennebert. She will engage the City's Public Works department in finding the source of the pollution.
After two years of gathering data, a picture of the types of pollution and their concentration levels was created. A website displaying data for the monitored outfalls (49 or 79) in the City of Anacortes has been created and is available to the public to see the pollution levels and types.  Visit our Anacortes Stormwater website to see a map of locatoins and details about the results of monitoring.
Key Friends of Skagit Beaches members involved with project:
Betty Carteret: Succeeded in acquiring a $20,000 Rose Foundation grant to fund the water quality equipment and data analysis. Good ideas run on money and Betty skillfully presented this citizen science project to a funding source who specializes in developing this very kind of idea. Betty with assistance of Tim and Wayne has successfully received a second $74,000 grant from the National Fish and Wildlife Foundation to expand this project to three additional communities in the North Sound region of the Washington coast. 
Wayne Huseby: Managing the project organization. Wayne has past experience managing complex projects so objectives are met in the intended timeframe. Wayne also organizes the database for this project's large volume of water quality measurements.
Tim Gohrke: Leading the volunteer recruitment and training component of this project. This project has a technical component that requires the volunteers to follow an exacting process for data accuracy in the water quality measurements. Tim works with the volunteers to assure they have the tools, training, and understanding for gathering stormwater data.
Our Dedicated Volunteers: 
Our trained team of 18 volunteers has braved all sorts of weather, day and night, to monitor 49 of the 79 stormwater outfalls in the City of Anacortes. Their work has identified a number of problem locations that the City is now evaluating.  Two locations have resulted in filing of official illicit discharge complaints that are being addressed by the WA Dept. of Ecology along with the businesses involved. 
Assistance and Training Support: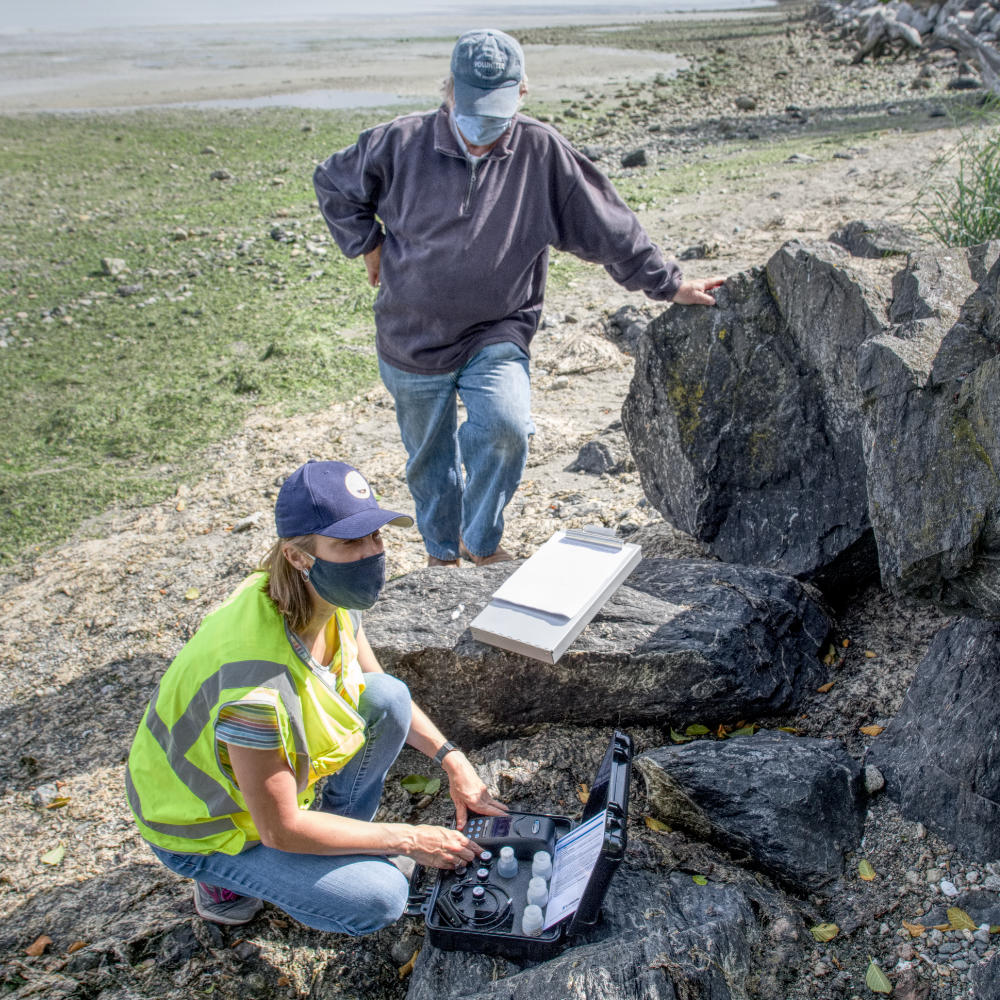 Diane Hennebert: Stormwater Manager for City of Anacortes. Diane provides the scientific background related to water quality. She basically tells us the meaning behind the measurements we take.
Todd Woodard: Director, Natural Resources Department, Samish Nation. Todd helps us understand how to organize the large body of data we collect. He recommended the equipment we purchased and the maintenance approach for this sensitive laboratory equipment. A benefit of his involvement is that our data is harmonized with the stormwater data his department gathers on a monthly basis. Between the Samish Nation and City of Anacortes stormwater outfalls a majority of Fidalgo Island stormwater is monitored with matching data types and techniques.
Sarah Wheatley: Manager, Natural Resources Department, Samish Nation. Sarah helps us with calibration and training for our laboratory equipment. If Todd Woodard helps us understand what's to be done for water quality monitoring, Sarah shows us how to do it.
Project Size and Scope:
79 stormwater outfalls dot the shoreline within the city limits of Anacortes. These outfalls are the point where the freshwater meets the saltwater of Puget Sound. An a once-per-month basis these outfalls will have their stormwater measured for:
Fecal coliform -- fecal material from man or animals that is picked up in stormwater can cause bacterial diseases in marine animals and shellfish.
Dissolved Oxygen -- is a measure of the marine life supporting properties of water. Too low of a dissolved oxygen level can suffocate marine life and too high a level causes gas bubble disease in marine animals.
pH -- a measure of the acidity of the stormwater. This measurement can indicate a pollution source within the stormwater drainage area.
Temperature -- is stormwater warmer in temperature than ambient air? A sign of a polluting source chemical reaction.
Turbidity -- An indicator of silt in the stormwater from land erosion. This silt will harm the reproduction cycle for marine fish.
Conductivity -- is a measurement of the presence of inorganic dissolved solids such as chloride, nitrate, sulfates, or sodium, magnesium, calcium, iron, and aluminum. These chemicals can come from fertilizers or industrial processes and have a harmful effect on marine life.
What does this look like for our volunteers?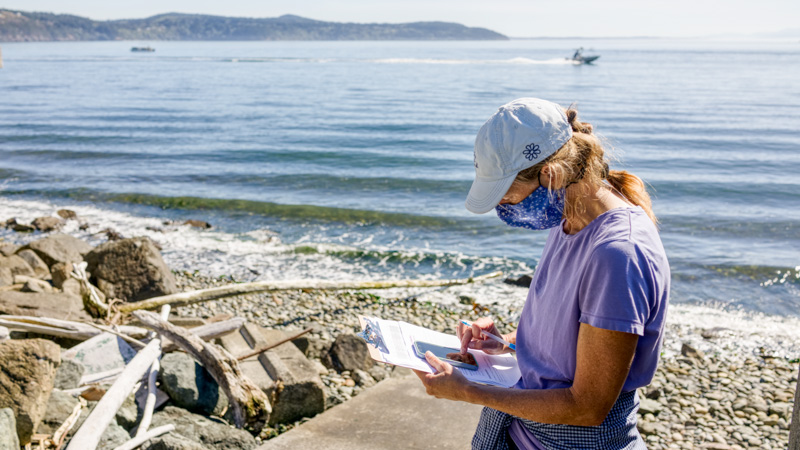 During half the year, the cold and rainy half, most of the water samples will be gathered at night. Many of the City's stormwater outfalls are fully exposed at only around low tide. During the winter this is usually at night and there is a 50/50 chance it will be raining and cold.
The volunteers will scramble over wet rocks and mud to reach these outfalls. They will capture about a pint of stormwater, insert the lab equipment probes into this water sample, then record the meter's readings onto their data worksheet on a clipboard. Likely it is raining and their flashlights will illuminate the steam from their breath.
Then the volunteers will proceed to four additonal outfalls and repeat the process. Finally they will return to our small make-shift laboratory and enter their data into a computer. They will clean the lab equipment and pack it away for the next volunteer who starts their monthly measurement process the next day.
These volunteers will provide a reliable picture of how polluted our Anacortes stormwater is. 
Are you interested in learning more? Send us an email at
This email address is being protected from spambots. You need JavaScript enabled to view it.