From Mud to Marina
In Cap Sante Basin
The Port's growing commitment to marine stewardship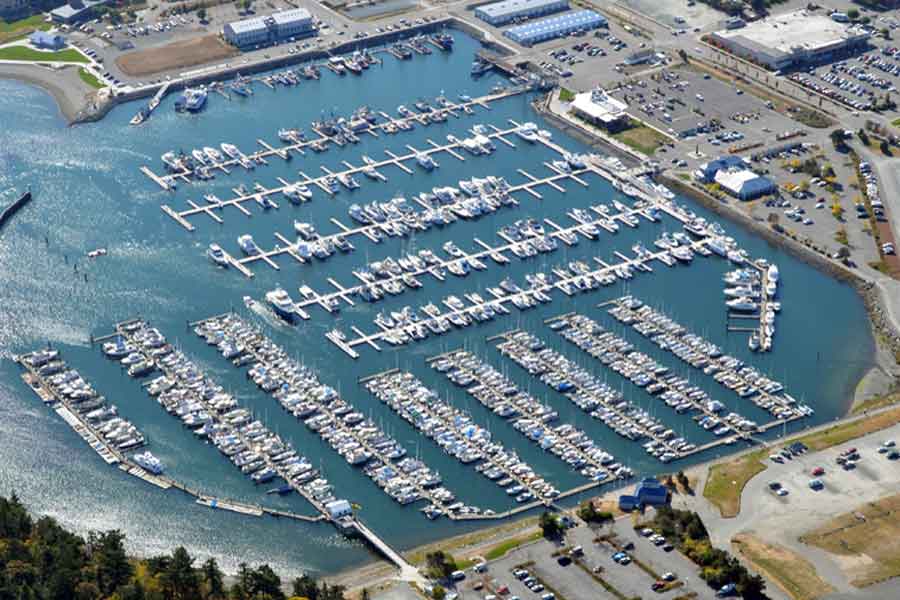 The shallow bay nestled behind Cap Sante headland was once a backwater of sand and mud, where logs were boomed and families dug clams. After years of lobbying by marine interests, the waterway was widened, basin dredged, and shoreline armored. That was in 1929, just in time to help Anacortes weather the Great Depression.
Over the years, new enterprises revitalized dilapidated facilities and graceful pleasure boats joined rugged commercial vessels.
In time, new environmental regulations focused attention on preventing pollution and cleaning up contamination. When an oily sheen on the water in the 1980s revealed a leaking fuel tank, it sparked a major environmental cleanup.
Today, Cap Sante is an eco-friendly, multi-use harbor with a waterfront esplanade, seasonal events, visitor amenities, and over 1,000 boat slips.
Razing Little Chicago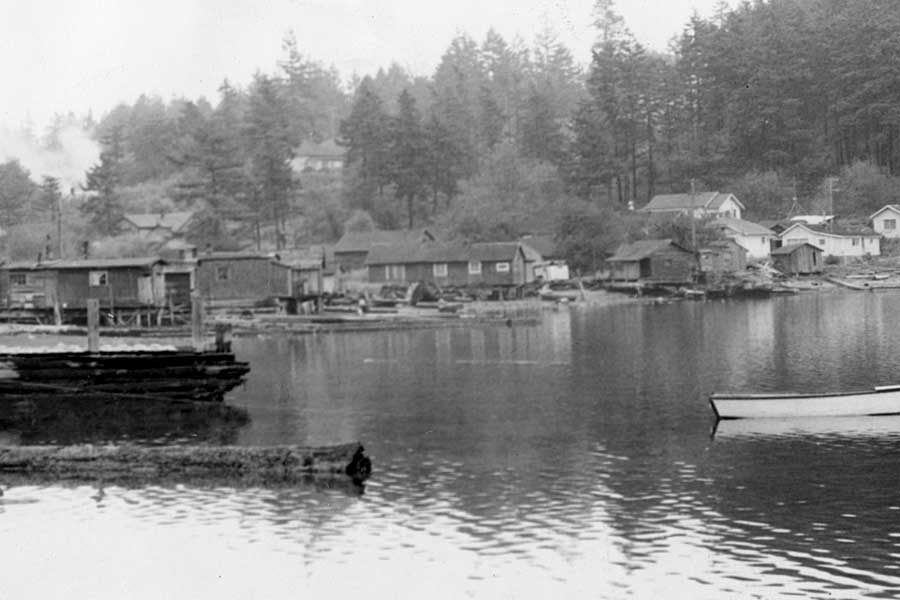 The "Little Chicago" community of humble dwellings and houseboats once hugged the edge of tidal marshlands deep in Cap Sante basin. Here, residents planted gardens, raised chickens, and harvested seafood at their doorstep. In 1957, the neighborhood was razed and the shoreline filled to build a new marina.
A vote for prosperity
In the early 1900s, Washington authorized the creation of ports to defend cities against domination by then-powerful railroads and private ventures that profited at local expense. In 1926, Anacortes citizens voted 1,453 to 253 to establish the Port of Anacortes to manage its waterfront trades, chiefly wood and cannery exports.
Ship shape, green marina
Continuous upgrades at today's awardwinning, certified "Clean Marina" replace creosote-laden wood with metal pilings and a state-of-the-art concrete dock system, complete with power, water, and sewer. The Port takes pride in its good housekeeping, waste management, spill response planning, and boater education.