Weaverling Spit: Pioneer Crossroads
Culture, recreation, and restoration on Weaverling Spit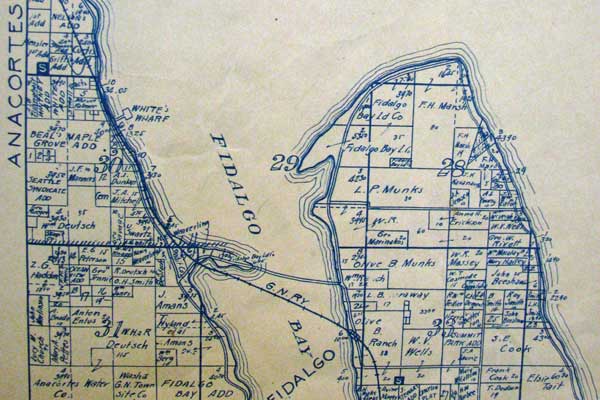 Weaverling Spit is a 47-acre, thumb-like projection into the middle of Fidalgo Bay. Over time, the spit hosted Coast Salish foraging grounds, pioneer homesteads, a gold mine, community picnics, and a boisterous dance hall.
Weaverling's proximity to March Point across Fidalgo Bay provided settlers with a route eastward from Anacortes to the mainland. By 1891, two bridges—one for wagons and another for trains—linked Weaverling Spit to March Point. Old Bay Road (now Fidalgo Bay Road) ran east from Anacortes onto the new wagon bridge, operational until 1922. The railroad trestle carried commercial trains until the mid-1970s.
Today, the spit is again under Native American stewardship as home to the Samish Indian Nation cultural center and waterfront resort. To preserve this local legacy and honor their ancient homeland, the Samish are restoring and protecting the spit's heritage and natural resources for all to enjoy.
Weaverling home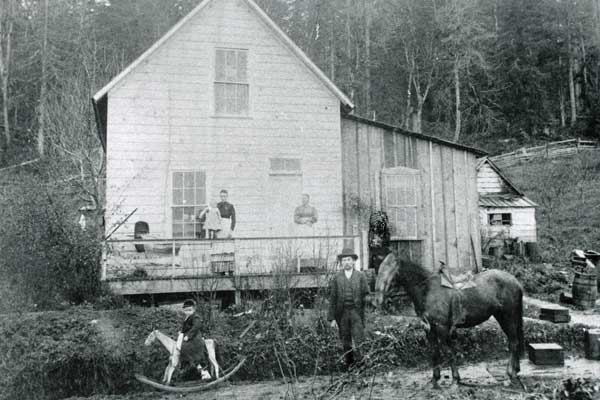 Beginning in the mid-1800s, enterprising Americans heeded the call to move west. Pioneers Frances and James Weaverling—for whom the spit is named—arrived here from Illinois in the late 1870s. They cleared land just west of the spit and built a home (occupied by three subsequent Weaverling generations) and raised cattle.
Fidalgo Bay bridges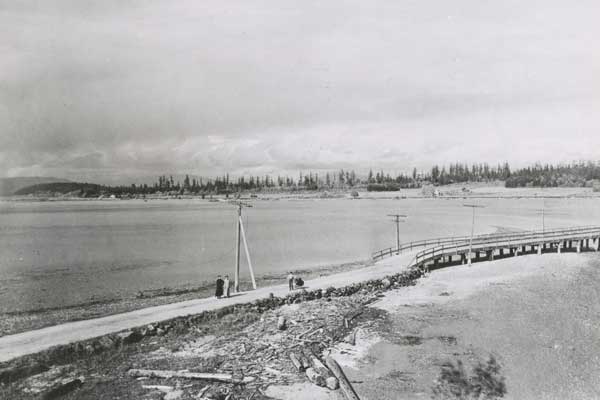 In the 1890s, the bridges across Fidalgo Bay provided a vital link to transport people, raw materials, and products between Anacortes, March Point, and eastward destinations. Today, the restored train trestle is part of this busy recreational trail named for former Anacortes resident and narrow-gauge railroad enthusiast Tommy Thompson.
Mining for gold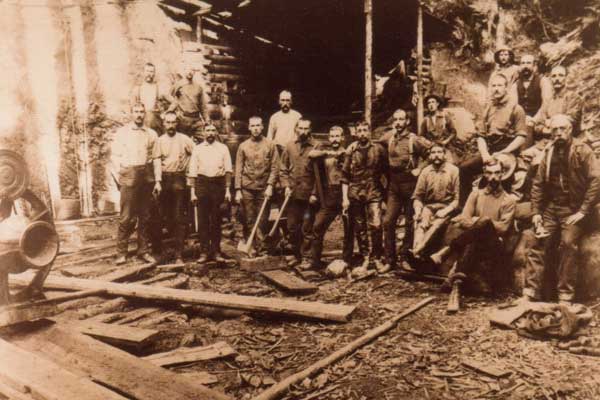 A gold mine, like the Sedro-Woolley mine shown above, once tunneled into the rock face above Weaverling Spit. In 1920, the Anacortes American reported that the city blew off "the whole point at the old mine beyond Weaverling's, using 75 tons of high explosives." The resulting rock helped fortify the shoreline and railroad bridge.
Recreation destination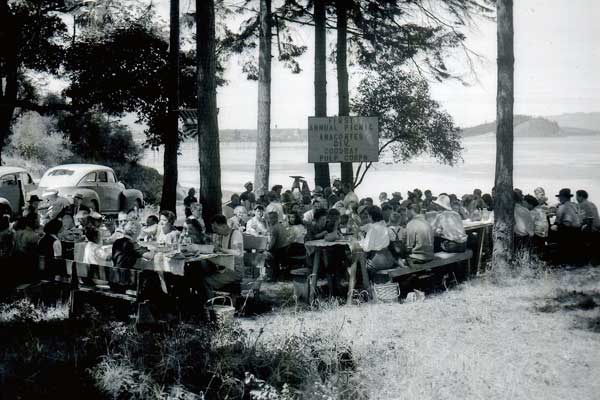 By the 1900s, Weaverling Spit was a popular picnic and camping destination with bath houses, picnic tables, a horseshoe pit, and community kitchen. Guests enjoyed baseball games, sack races, and tug-of-war games. Anacortes old-timers recall, too, a dance hall and tavern built in the late 1930s and later converted to a home.