Its kind of a love/hate relationship we have with plastics
Plastic is an amazing thing. Invented in 1907 and perfected during the first half of the 20th century, plastic hit the market in full force in the post WWII era. The photo above from a 1950s Life Magazine article touted the advent of "Throw-Away" living and promised how it would free us from the burden of household chores. Plastic is durable, cheap, stain resistant, and light. We use it in so many ways, from airplanes to eyeglasses. Its durability is one of plastic's attractions, but it also causes some serious problems related to disposal. That "Throw-Away" lifestyle has come at a significant cost to the environment and health.
By the Numbers. It is said that every piece of plastic ever made still exists on the planet today. An estimated 6,300 million metric tonnes, or 90.5% of all plastic waste ever manufactured, has never been recycled. Americans only recycle about 9% of the plastics used. Whereas in Europe, the plastic recycling rate is 30%. This unrecycled plastic has ended up in landfills, incinerators, or floating free and polluting the environment. All that plastic will last long after its useful life has ended. It takes 450 years for a plastic bottle to decompose in a landfill.
More numbers, because we love them. And it takes a lot of energy to make all the plastic we use. In the US plastic manufacturing consumes 12 million barrels of oil each year in the production of 30 billion plastic bags. Between 8-10% of the nation's oil supply is used during the manufacturing process of plastics and it is predicted that plastics production will consume 20% of the world's oil production by the year 2050. Nearly half of the 400 million tons of plastic produced worldwide each year is destined for single use items (e.g., straws, cups, bottles, bags) that have an average useful life of only 10-15 minutes before they become part of the waste stream. For example, single use plastic bags like those from the grocery store are only used for an average of 12 minutes!
Plastic in the oceans. 8 million metric tons of plastic waste flows into the oceans every year. 80% of the plastic waste entering the oceans is from land-based sources, washed into the ocean after it is washed into rivers and streams. Plastic released at sea from fishing, shipping, and other maritime activities accounts for only 20% of the plastic entering the ocean.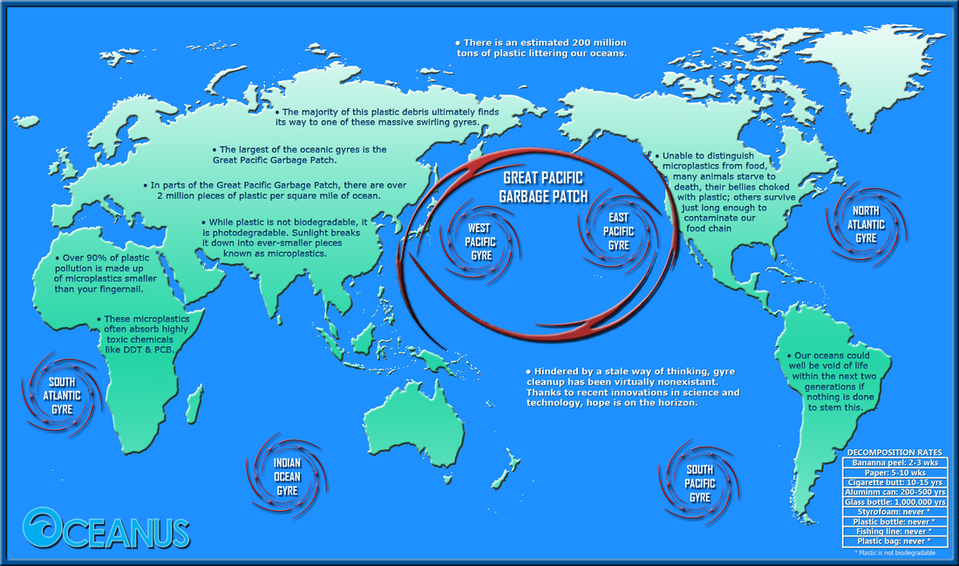 Animals get entangled in ocean plastics and they ingest it along with the toxics that adsorb to it. It has been estimated that each year plastic waste is killing one million seabirds, 100,000 marine mammals, large numbers of sea turtles and sharks, and countless fish. Nearly half of the world's most important fish stocks for human consumption have been reported to contain plastic.

Microplastics, tiny fragments causing big problems. Microplastics are tiny fragments of plastic that are less than 5 mm in length. Some microplastics, like microbeads, are purposely manufactured while other microplastics are the result of the degradation of larger plastic debris. Ocean plastics eventually break down into microplastics, which have been found literally everywhere in the ocean where they have been looked for. On some beaches on the Big Island of Hawaii, as much as 15 percent of the sand is actually grains of microplastic. When consumed by marine organisms these microscopic pieces of plastic can cause physical damage and release toxins. Plastics have a natural affinity for toxicants and acts as a toxic conveyor belt, sponging up pollutants transferring it to everything that eats it.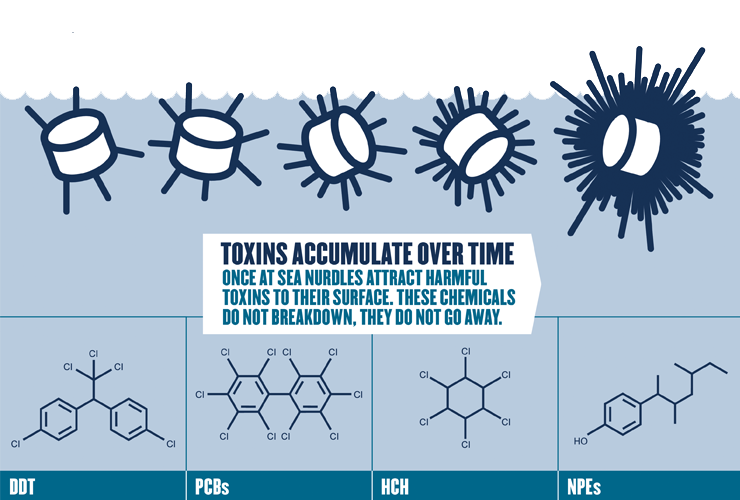 Plastics on our plates. Not only are marine organisms being directly impacted, humans may be impacted by consuming contaminated fish and shellfish. Research on the impacts of human consumption of microplastics through the food chain is growing but little is known about the impact on human health. Recent research conducted in the Salish Sea has shown that small plastics are widespread along shorelines and that filter feeding organisms like mussels, clams, and oysters are contaminated by plastics they have ingested from the surrounding waters.
What to do, what to do? Reduce your use of plastics, especially single use plastics! Adopt some "simple swaps" to reduce single use plastics in your life. Carry your own water bottle instead of using single-use plastic water bottles. Bring reusable shopping bags instead of using plastic grocery bags. Bring your own cutlery when you are eating away from home instead of relying on plastic cutlery. Use your reusable coffee cup instead of buying a single use cup. These simple habits can have a big impact when included in our daily routine. Plastics are all around us in our daily lives, so it can seem like a daunting task to reduce plastics in our lives. Just think of it as a journey to transition away from a "Throw Away" lifestyle to one that is better for our environment and health.


Sources:
Addressing Land-based Pollution
https://www.unenvironment.org/explore-topics/oceans-seas/what-we-do/addressing-land-based-pollution
Fact Sheet: Single Use Plastics
https://www.earthday.org/2018/03/29/fact-sheet-single-use-plastics/
Geyer, R., Jambeck, J.R., and Lavender Law, K. 2017. Production, use, and fate of all plastics ever made. Science Advances 19 Jul 2017. Vol. 3, no. 7, e1700782. DOI: 10.1126/sciadv.1700782 https://advances.sciencemag.org/content/advances/3/7/e1700782.full.pdf
Guess What's Showing Up In Our Shellfish? One Word: Plastics
https://www.npr.org/sections/thesalt/2017/09/19/551261222/guess-whats-showing-up-in-our-shellfish-one-word-plastics
The Impact of Microplastics on Food Safety: the Case of Fishery and Aquaculture Products
http://www.fao.org/in-action/globefish/fishery-information/resource-detail/en/c/1046435/
Microplastics in Fisheries and Aquaculture
http://www.fao.org/3/a-i7677e.pdf
The Ocean Conference-Factsheet: Marine Pollution
https://sustainabledevelopment.un.org/content/documents/Ocean_Factsheet_Pollution.pdf
Planet or Plastic
https://www.nationalgeographic.com/environment/planetorplastic/
Plastic Bag Consumption Facts
https://conservingnow.com/plastic-bag-consumption-facts/
UNEP. 2018. Single-use plastics: A Roadmap for Sustainability. https://wedocs.unep.org/bitstream/handle/20.500.11822/25496/singleUsePlastic_sustainability.pdf?isAllowed=y&sequence=1
What are Microplastics
https://oceanservice.noaa.gov/facts/microplastics.html
1bag at a time
https://1bagatatime.com/learn/plastic-bags-petroleum/
The Skagit Plastic Reduction and Recycling Coalition is a partnership between Friends of Skagit Beaches, Skagit County Solid Waste, and the Washington Department of Ecology. We are working to educate Skagit County residents on the issues of plastic waste in the environment and involve them in taking action to avoid single-use plastics and recycle plastic right.
The Friends of Skagit Beaches Plastics Project is funded by a grant from the Washington Department of Ecology with additional support from Skagit County Solid Waste Division.