By Wayne Huseby
It all started with a simple email in late February from my good friend Vicki Stowe asking if our group, the Fidalgo Bay Aquatic Reserve Citizen Stewardship Committee (FBARCSC), would consider hosting a "STEM Sampler" workshop. Vicki is a wife, mother, and a passionate champion for STEM (Science, Technology, Engineering, and Math) education in our local schools. Besides leading efforts to raise thousands of dollars for STEM programs, Vicki volunteers her time to organize and manage STEM activities for our kids. One of those programs is called "STEM Sampler". The goal of the program is to engage each Middle School student in a hands-on, workshop oriented activity that exposes them to STEM subjects that they would otherwise not have time for in their regular school schedule. The hope is to stimulate some students to consider taking STEM courses that could lead to a rewarding and fulfilling career.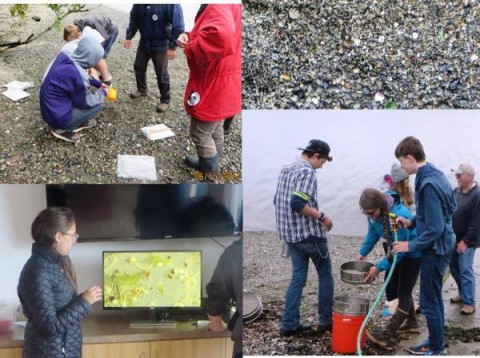 In late March, Vicki, Pete Haase (FBARCSC President), and I met for coffee to discuss a possible workshop. We decided that engaging students in one of our citizen science-based forage fish surveys (surf smelt eggs) would be a perfect fit. It would demonstrating how STEM can lead to new knowledge about a very important species of our marine ecosystems. One of the primary missions of the FBARCSC is to engage the community and provide educational programs about the Fidalgo Bay Aquatic Reserve (FBAR). We had no idea how we were going to do it, but agreed to host a workshop in mid-June.
What were we thinking! These were Middle Schoolers!
Vicki is a very persuasive woman.
Once we realized what we had done, Pete and I solicited the assistance of Erica Bleke, Aquatic Reserves Program, Washington Department of Natural Resources, to help us plan and organize how we would actually pull off the workshop. Erica had been a teacher so she had some experience working with kids, especially in a field environment. Thank goodness for that! Over the next several weeks, Pete, Erica, and I met a few times to work out a plan knowing full well that things would probably not go as planned. They didn't!
This year's STEM Sampler , the third annual, had 23 workshops for students to choose from over the two day event. Each "workshop location" conducted four (4) workshops, two workshops each day for two days, each lasting approximately two hours, one in the morning and one in the early afternoon. For "offsite" workshops like ours, students were bused to/from the Middle School. I must admit, it was a terrifying sight when that first busload of students arrived at the Fidalgo Bay Resort and we all realized it was "showtime"! We survived.
Despite some horrendous mid-June weather, our team of experienced volunteers did a fabulous job of explaining the what, how, and why of a forage fish surveys. Fortunately, the target, surf smelt eggs, were fairly abundant during our surveys so most students stayed engaged (not all!). The highlight for many students was putting their respective team's sample of eggs under a microscope which was displayed on a large TV screen. The "oohs and aahs" from the students when they realized that some of the eggs actually had little embryonic fish inside of them with tiny eyeballs was telling! For many, it was the first time they had ever seen something like that. Discovering nature can be an exciting thing!
Although it was a lot of work to plan and organize the workshop, the expectation is that FBARCSC will likely be persuaded to participate again next year. As I said, Vicki is very persuasive. Besides, we can apply lessons learned and make it even better next year! The kids we had on the beach those two days back in June will soon be entering into adulthood. Having an opportunity to work with them and possibly influence a career choice is extremely rewarding. Even if none of them ever pursues a STEM career, our hope is that they all came away with a greater appreciation of our natural world.
Hosting a successful STEM Sampler would not have been possible without our dedicated volunteers. Following are some thoughts that a couple of them shared with me about their experiences:
"What was most impressive to me about the STEM Sampler was the level of involvement and community collaboration that went on in order to provide this unique opportunity. From my perspective, it is vital to get community members, especially local students, into Fidalgo Bay Aquatic Reserve to learn about what the Reserve is and why its protection is critical to the overall health of the Salish Sea."
There are only eight Aquatic Reserves in the entire state of Washington and it's a pretty fantastic thing for Anacortes students to have one in their backyard. To see students realize that their local beaches are not just a great place to walk, but are actually teeming with life that supports the greater Salish Sea ecosystem was a great thing to be a part of.
We're more powerful together when we work as a team in order to raise awareness of our local resources and provide opportunities to get out to enjoy them. It was inspiring to see so many different agencies, non-profits, and organizations come together to help provide this type of hands-on, minds-on science opportunity for local students and I'm looking forward to doing my part to make sure it happens more often!" – Erica Bleke, Aquatic Reserves Program, Washington Department of Natural Resources
"The second day of the STEM Forage Fish program shaped up to be a beautiful morning, especially after a week of early-summer rain and wind. I volunteered for the program only two weeks into my new job, and had no idea what to expect. I checked in and was quickly introduced to the rest of the volunteers. By the end of the day, I was gobsmacked by the variety of organizations that were represented in the room. It began to dawn on me how replete my new home is with kind, collaborative, science-minded people. I worked with two different groups of kids, the first one was a very rambunctious group of younger boys, and the second had some kind and unassuming older girls. By the end of each of their programs, both groups were excited and proud to see the smelt eggs they had collected up on the screen! One boy liked it so much that he actually came back a second day". - Keighley Lane, Intern, Pacific Biodiversity Institute
"As I had not done field work in a couple of years, assisting with the STEM workshop was very enlightening. It was an opportunity for me to learn, as well as pass along any knowledge that I might have to potential budding ecologists. The day was unfortunately, a bit blustery and cold, but conditions were ripe for learning. Each team was shown how to create a transect, collect samples, clean those samples, and then process the samples under a microscope. The most fascinating part was 'seeing' what had been collected, using the microscope. I think the science of what we were doing did not become real until the students were given the opportunity to view what was collected in this fashion. I believe we were all fascinated when we detected the various species by seeing 'eyes' in egg sacs. Various oohs and ahhs from the audience made this apparent. Though that could have been coming from the adults!
All in all, I believe the students had a good time this day. I think had the day been a bit warmer and not as rainy, they may have been a bit more engaged. I confess to being cold and a little distracted myself. However, I am extremely grateful for all the collected experts from this area that had far more knowledge than I did, as I personally, learned a lot. I'm happy that I was able to attend and assist in any way that I could." - Heather Conkerton, Intern, Pacific Biodiversity Institute
The FBARCSC is a small group making a big difference in our community and region. We are seeking new committee members who are interested in ways to promote, protect and restore the Fidalgo Bay Aquatic Reserve.It is not necessary to have a marine environmental background, only a strong desire for preserving the health of our fragile marine ecosystems. There are a many ways you can participate, be it citizen science, public outreach, or regulatory watchdog. Whatever your skills or interests, if stewardship of our marine environment is important to you, we would like to talk. For more information, contact us at This email address is being protected from spambots. You need JavaScript enabled to view it. or visit us at our website - Puget Sound Aquatic Reserves