Microscopic Analysis of Fidalgo Bay Aquatic Reserve Surf Smelt Eggs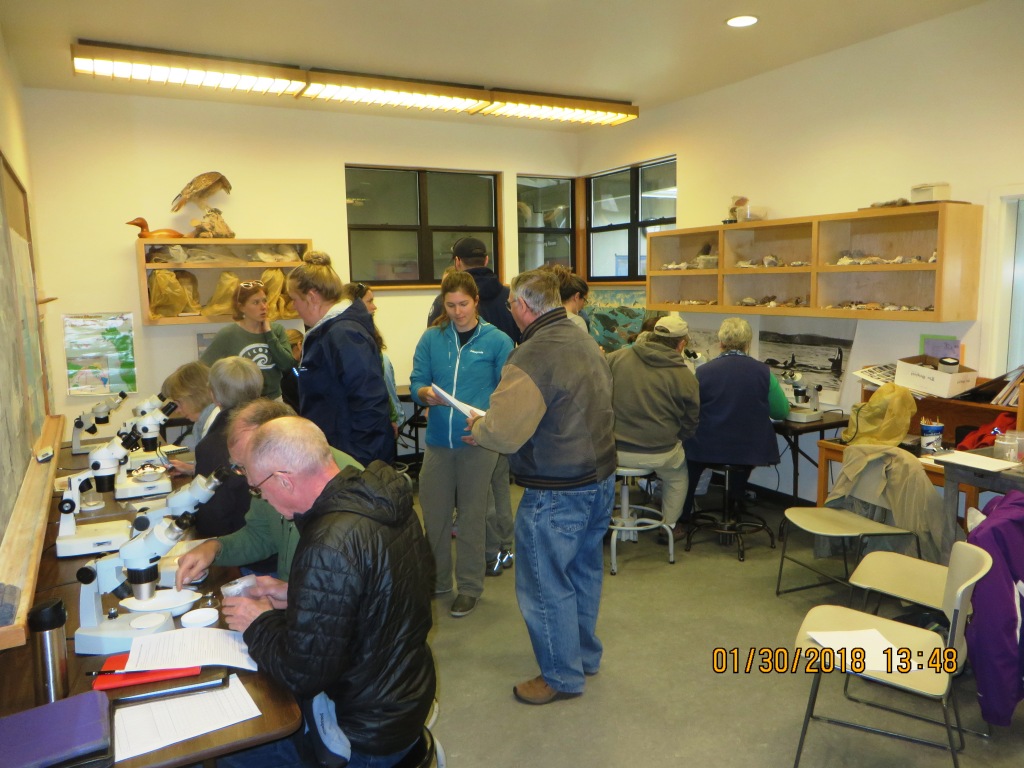 Providing opportunities for local citizens to learn about an Aquatic Reserve is one of the ways a Citizen Stewardship Committee (CSC) can spread the word about these remarkable habitats. Sometimes this comes in the form of community events that bring local residents to familiar beaches in order to let them know that the waters before them have a special designation: Aquatic Reserve. Other times, this means opening up a whole new microscopic world and deepening the connection that people have with the beaches in their own backyards.
Recently, several citizen scientists in Skagit County took advantage of a Washington State Department of Natural Resources Puget SoundCorps (PSC) led training to learn how to do microscopic analysis of forage fish survey samples (little jars with some fluid, some very fine beach sediment, and maybe, just maybe, some forage fish eggs!). Frankly, the volunteers were skeptical that they could ever learn the process and be able to do it, but they did!
In our volunteers own words:
Participant 1:
"After months of carefully collecting and sieving beach sand samples in the hunt for forage fish eggs in Fidalgo Bay, we had the opportunity to learn the next steps in the sampling process…About twenty of us crowded into the Microscope Lab at Padilla Bay National Estuarine Research Reserve (NERR) to learn how to determine the stage of development of the fish eggs we saw under the microscope … After several hours of looking at samples and comparing the eggs to our reference sheets, we were starting to feel more confident in our ability to stage forage fish eggs. We are waiting for the QA/QC to be completed by the Department of Natural Resources (DNR) so we know how we did."

Participant 2
:
"There is so much beauty in an egg seen under a microscope. I didn't expect to experience so much wonder and a lingering sense of awe from the small eggs of small fish. The process of learning to work with the microscopes, eggs and forceps is challenging and yet attainable. Thankfully, the eggs are toughened up a bit and easier to manipulate than one would guess. All citizen science projects bring interesting people together and it is inspiring to learn about fellow volunteer's interests and experiences."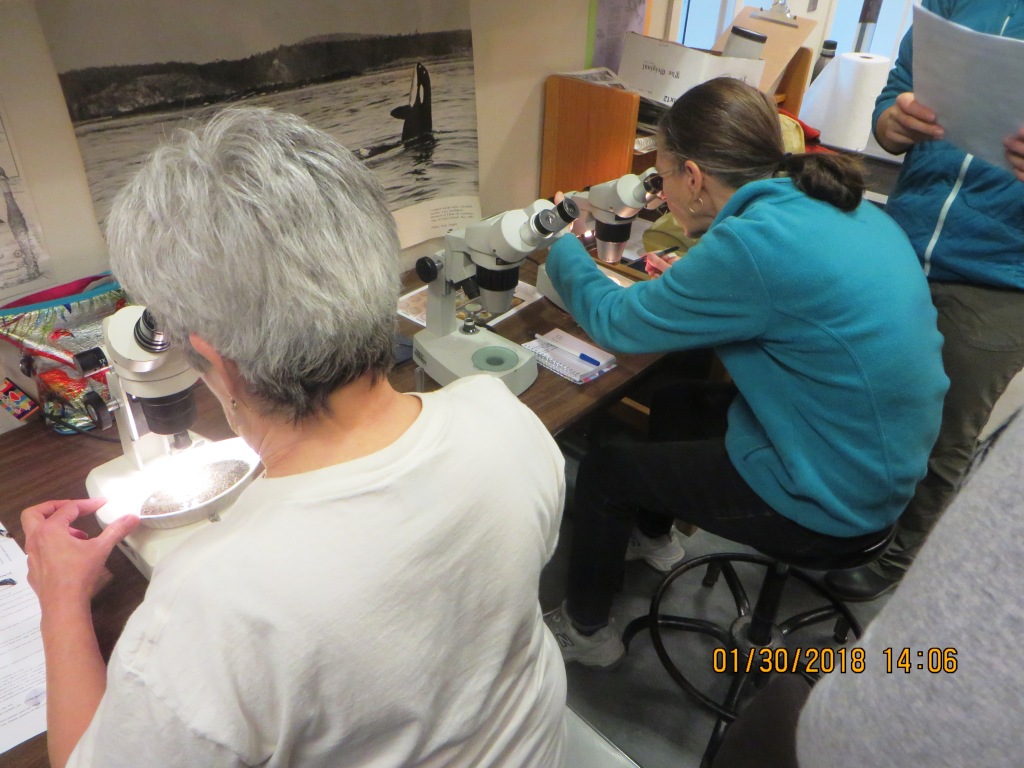 Participant 3:
"What an exciting time to be monitoring for forage fish eggs. The addition of the microscope has been an added bonus to an already fun beach volunteer project. Learning to identify and stage the growth of these precious eggs is a great learning process and the fact that we have a great deal of teachable knowledge, as we are gather together, makes for a very enjoyable time. I'm thrilled to be a part of not only this project but several others. Keeping our beaches full of life, safe and hospitable is the name of the game and I love that I (along with other wonderful volunteers) are setting an example for all to see what is in our backyard."
Participant 4:
"The 'big picture' is experiencing, protecting and restoring a beautiful healthy shoreline in our community. The 'small picture' is microscopically searching for forage fish eggs in sand and gravel samples collected from these beaches. A whole new world of marine biology unfolds before your eyes as you search for and identify stages of surf smelt eggs. What makes the experience fun and rewarding is the sharing of discovery and purpose with fellow volunteers. Personally, I am anticipating seeing the complete cycle of egg development and hatching. Then, when I walk the beach, I will know the 'complete picture'."
Learn more about the Aquatic Reserve 
Interested in learning more about what's happening locally? Send an email to This email address is being protected from spambots. You need JavaScript enabled to view it.