By Betty Carteret
Friends of Skagit Beaches again sponsored the Discovery Passport activity at the 2017 Fidalgo Bay Day event on August 12th. This year was bigger and better than ever. We distributed 203 passports, which was double the total from last year. Kids (of all ages) had a great time grabbing their passport and heading out to visit the Passport Stations where they were challenged to answer a question about that station. This year we had 14 stations to visit and in order to collect a prize participants needed to visit at least 8. It was so much fun that most of the "Passporters" visited them all.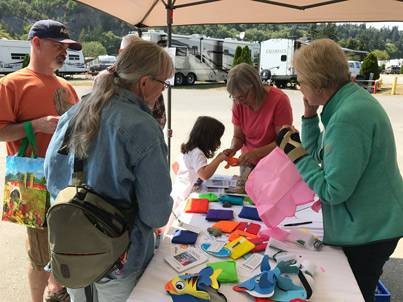 It's sooo hard to decide which prize to pick.
Our theme this year at the Information Table (Station 1) was reducing marine plastic debris going into our waterways and oceans. With that in mind, some of the prizes were reusable plastic shopping bags and produce bags (like the one in the above photo on Dad's arm).
Participating organizations all agreed that being one of passport stations brought more enthusiasm to their interactions with visitors to their displays.
Again this year we offered a coloring contest to select a winner for next year's passport cover design. We received 14 entries – that's double last year's number. So, with the increasing number of participants and the joy of all the smiles and laughter, we'll be back again at Fidalgo Bay Day with our 2018 Discovery Passports. If you're interested in volunteering to help with next year's passport activity, contact us a This email address is being protected from spambots. You need JavaScript enabled to view it..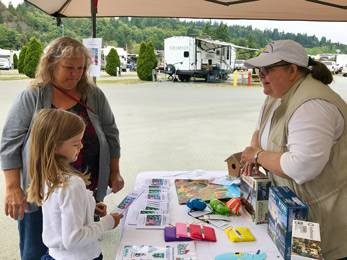 Early arrivals admiring the passport cover art!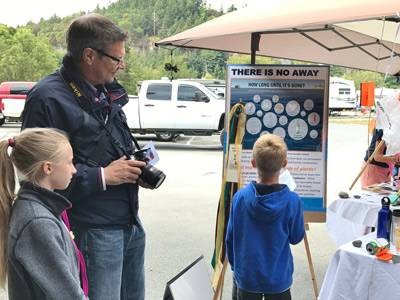 Station 1 – Marine Plastic Debris Station: "I bet this poster has the answer to my challenge question"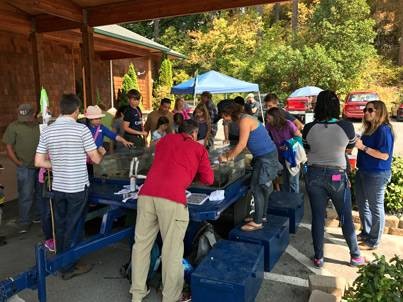 Station 4 – Shannon Point Marine Center's Touch Tank was probably the busiest station with lots of critters to see and feel.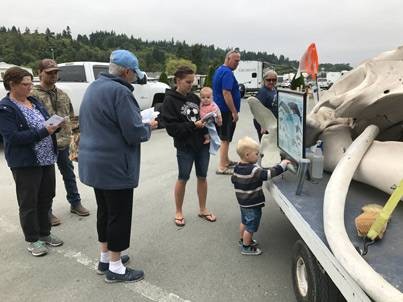 Station 5: Deception Pass Foundation's Gracie the Whale skeleton is really big and really cool!