UPDATE: Grant for Fidalgo Bay and City of Anacortes stormwater monitoring.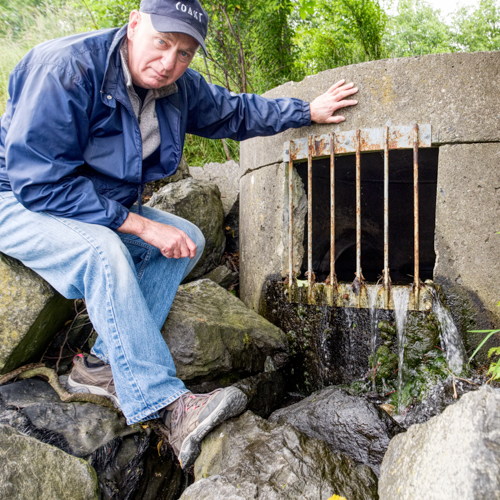 The Rose Foundation awarded a significant grant to Friends of Skagit Beaches for monitoring stormwater outfalls at the point where stormwater meets saltwater. The objective of this project is to create a continuously updated baseline of measured stormwater pollution levels that reach Puget Sound.
The City of Anacortes has more than 80 outfalls that deposit stormwater directly into Puget Sound. This project, manned by volunteers, will monitor most of these outfalls. The outfalls not monitored are either on private land or are too unsafe for a volunteer to reach.
(FOSB President Tim Gohrke checking out one of Fidalgo Islands stormwater outfalls)
This stormwater pollution monitoring project is a partnership with Friends of Skagit Beaches, the City of Anacortes, and the Samish Tribe's Department of Natural Resources.
At this stage the project is organizing the training curriculum around six types of measurements:
1. Dissolved Oxygen Levels
2. Salinity
3. pH
4. Water Temperature
5. Turbidity
6. Fecal Coliform levels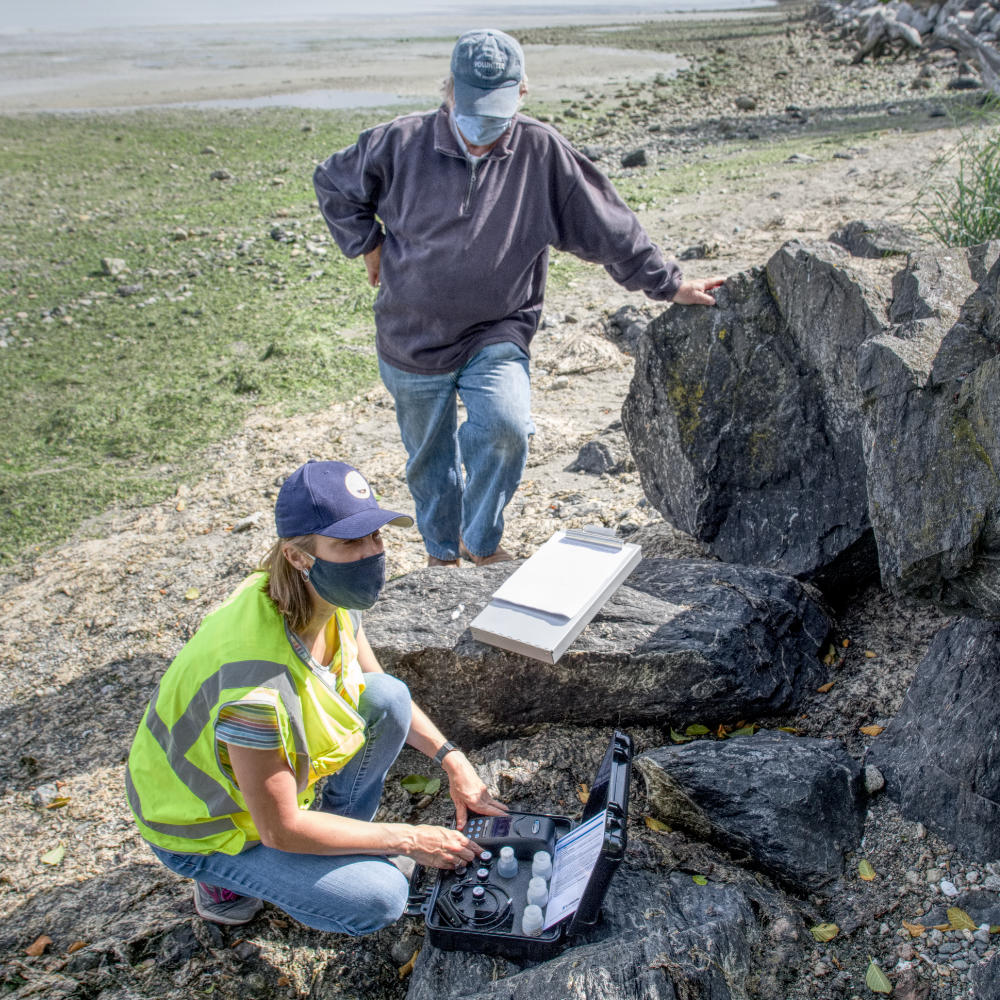 Volunteers will use several calibrated electronic measuring devices for fast and accurate data capture. The data will be stored in the project's own database. The Rose Foundation grant provides funding for two years. At the end of that two year period the project will visualize the data and show the actual levels of pollution from Anacortes stormwater.
(Pictured: Wayne Huseby watches Diane Hennebert (City of Anacortes) calibrate her turbidity test equipment. This procedure involves three bottles with known turbidity levels. The sensor is shown each bottle and calibrated to that level. This machine will be used by the FOSB stormwater monitoring volunteers in their monthly data gathering work among the city's stormwater outfalls.)
The State Department of Ecology requires that a municipality with a stormwater permit must examine and sample at least 13% of their entire stormwater pipe network each year. Most municipalities have budget shortages for manpower. Usually no more than 13% is examined. That means in the five year permit time frame no more than 65% of a town's stormwater system is monitored, and likely only once in five years.
Stormwater is the state's largest single pollution source according to The Department of Ecology. It's greater than waste water treatment or agricultural runoff. Yet no municipality can routinely or consistently report pollution levels that discharge into Puget Sound.
This situation seems tailor-made for a citizen science volunteer campaign. The Anacortes stormwater monitoring project will not stop pollution, but will guide the city's limited manpower to find and eliminate the sources of pollution that the volunteers detect.