By Jan Hersey
blog photo of Curtis Wharf ca. 1904, courtesy Anacortes Museum Wally Funk collection
First mapped by Spanish explorers in 1791, the swift, navigable channel between Fidalgo and Guemes islands has long been the heart of the Anacortes working waterfront.
The channel's deep, natural harbor spurred Anacortes' dream of becoming a major northwest maritime terminal, and the waterfront quickly became the nexus of local commerce, governing the flow of goods to and from the city.
By the early 1900s, the busy shoreline hosted lumber mills, salmon canneries, ferry landings, the fishing fleet, and a "Mosquito Fleet" of small fishing and workboats.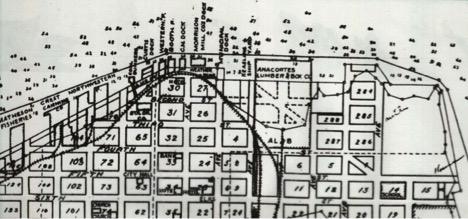 Guemes channel shoreline map ca. 1923 (cropped) courtesy of Anacortes Museum
In 1905, at the northernmost end of O Avenue, Melville Curtis (1849–1925), brother-in-law of Anacortes founder Amos Bowman, built "Curtis Wharf" on Guemes Channel. It quickly became an anchor for the city's growth. There, Curtis established a coal and builders supply as well as the Anacortes Ice Company—providing essential ingredients for a growing city. A shipping dock and variety of waterfront businesses followed, including the American Express office, Standard Oil office (now American Gold Seafood), and the international Black Ball Ferry terminal.

When it was established in 1926 to preserve shoreline access for local interests, the Port of Anacortes began buying waterfront properties and tidelands, developing a shoreline infrastructure, and leasing properties to maritime and related businesses.
During the 1900s, Curtis Wharf itself hosted a café, grocery, Guemes ferry landing, sand and gravel business, and street car station. Having fallen into disrepair, however, in September 1992, Curtis Wharf facilities were demolished after efforts to preserve it failed. The original property now hosts a seafood plant and Puget Sound Rope. Just to the west of the original structures, a new area bearing the name "Curtis Wharf" was constructed. This is now an international marine terminal where you'll find cruise ships and other large working vessels docked.
Environmental impacts
Another story, however, follows the property timeline, as well. Over time, and lacking attention to industry's impact on the surrounding ecosystems, chemicals and wastes from this century of "progress" at Curtis Wharf and along Fidalgo's northern and eastern shores came to pose a threat to the health the marine ecosystem and to local citizens.
Enter the Washington Department of Ecology's Anacortes Bay-wide Cleanup of Guemes Channel and Fidalgo Bay. Beginning in 2007, a successful merger of public and private interests brought together the DOE, the port and city of Anacortes, and other entities to restore and enhance much of the Anacortes waterfront—including the Curtis Wharf area and Seafarers' Memorial Park.
Today, with pollutants removed and/or contained, the Railroad Avenue beach adjacent to Curtis Wharf was restored, pedestrian access developed, and an appealing visual link of plants and lighting created between the beach and uplands. Passengers disembarking from the American Spirit cruise ship that docks at the new Curtis Wharf find an attractive link into historic downtown Anacortes.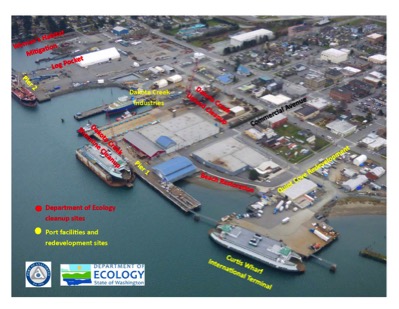 Aerial photo courtesy Joe Kunzler
And shoreline improvements continue. South of Curtis Wharf, the Quiet Cove property was purchased by the port in 2013; it surrounds O Avenue between 2nd and 3rd Streets.  In 2015, the Port purchased adjacent property on Commercial that includes the iconic Marine Supply and Hardware store. This new acquisition is currently undergoing evaluation for redevelopment to expand the port's facilities and attract new business to Anacortes.
What would Curtis think?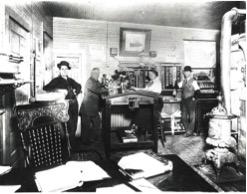 Curtis Wharf & American Express Office ca. 1904 (Melville Curtis second from left), courtesy Anacortes Museum's Wally Funk Collection
In addition to his commercial efforts, Melville Curtis served two terms as Anacortes mayor, eight years on the city council, and sat on the Anacortes Parks board from its inception. He "sold" the Cap Sante headland to the city for one hundred dollars, naming it for a similar rocky outcrop in Quebec where he had spent much of his youth. On the day of his funeral in March 1925, the Anacortes American reported "offices, stores, banks and city hall, commerce and industry halted to pay tribute to the memory of the pioneer who had passed." This civic and environmentally minded entrepreneur would likely be proud of the progress that continues in his name.