Standard Oil Complex at O Avenue & 2nd Street (Nov. 1909), photo coutesy of Anacortes Museum
A D.O.E/Port of Anacortes partnership
By Betty Carteret
Quiet Cove has been anything but quiet over its busy history!
This latest Washington Department of Ecology–Port of Anacortes cleanup site is located on Guemes Channel, at the north end of "O" Avenue—a center of local commercial and marine transport since the early 1900s, when Curtis Wharf was built nearby.
One of the major industries established at Quiet Cove was the Standard Oil dock, with its office and distribution center located south of Curtis Wharf between 2nd and 3rd Street on both sides of O Avenue.  In the photo below you can see their Red Crown gasoline building across from where the popular Anacortes Soroptimist shop is located today. The distribution center provided Zerolene and Red Crown brand gasoline to a community whose boats and a growing number of motor cars were running on this convenient new fuel.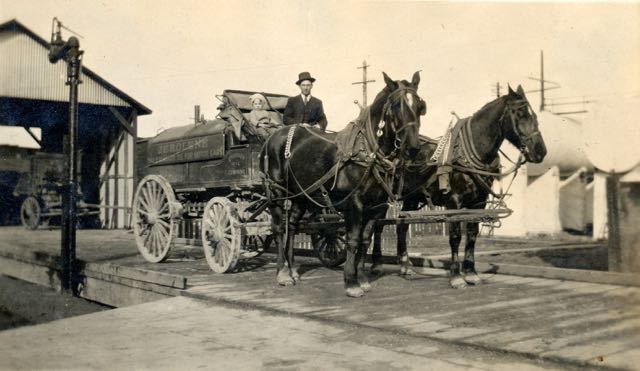 Zerolene Delivery Cart ca. 1905,  courtesy of Anacortes Museum
Petroleum off-loaded from ships was stored there in above-ground storage tanks. With use and over time, these tanks may have leaked contamination into surrounding soils.
In 2013, the Port of Anacortes purchased the Quiet Cove property bounded on the west side by the old Standard Oil office, which is now occupied by American Gold Seafood at 202 O Street. The Port has mostly emptied a storage and maintenance yard that operated until July 2015 at the location where the old Red Crown building had once stood.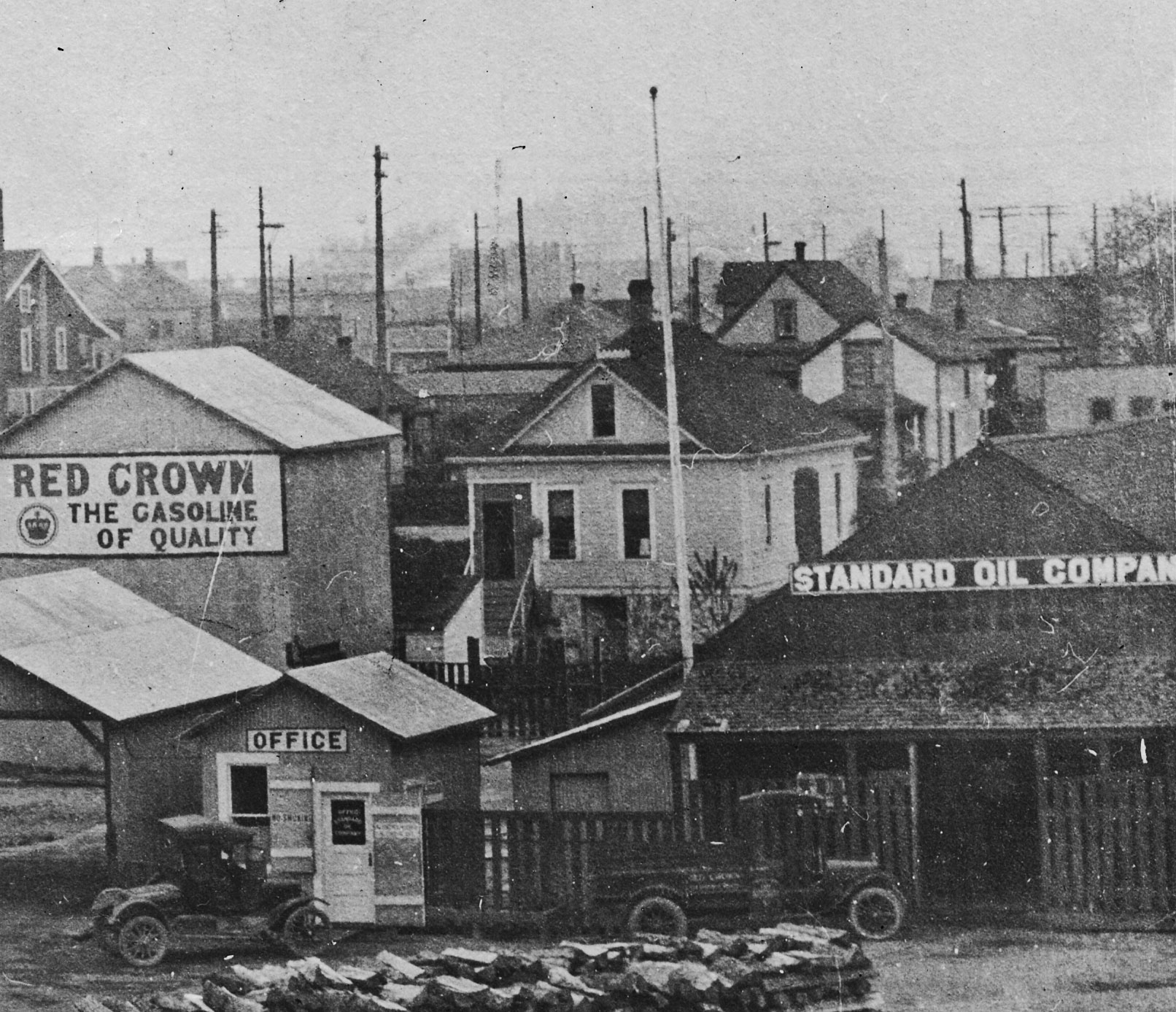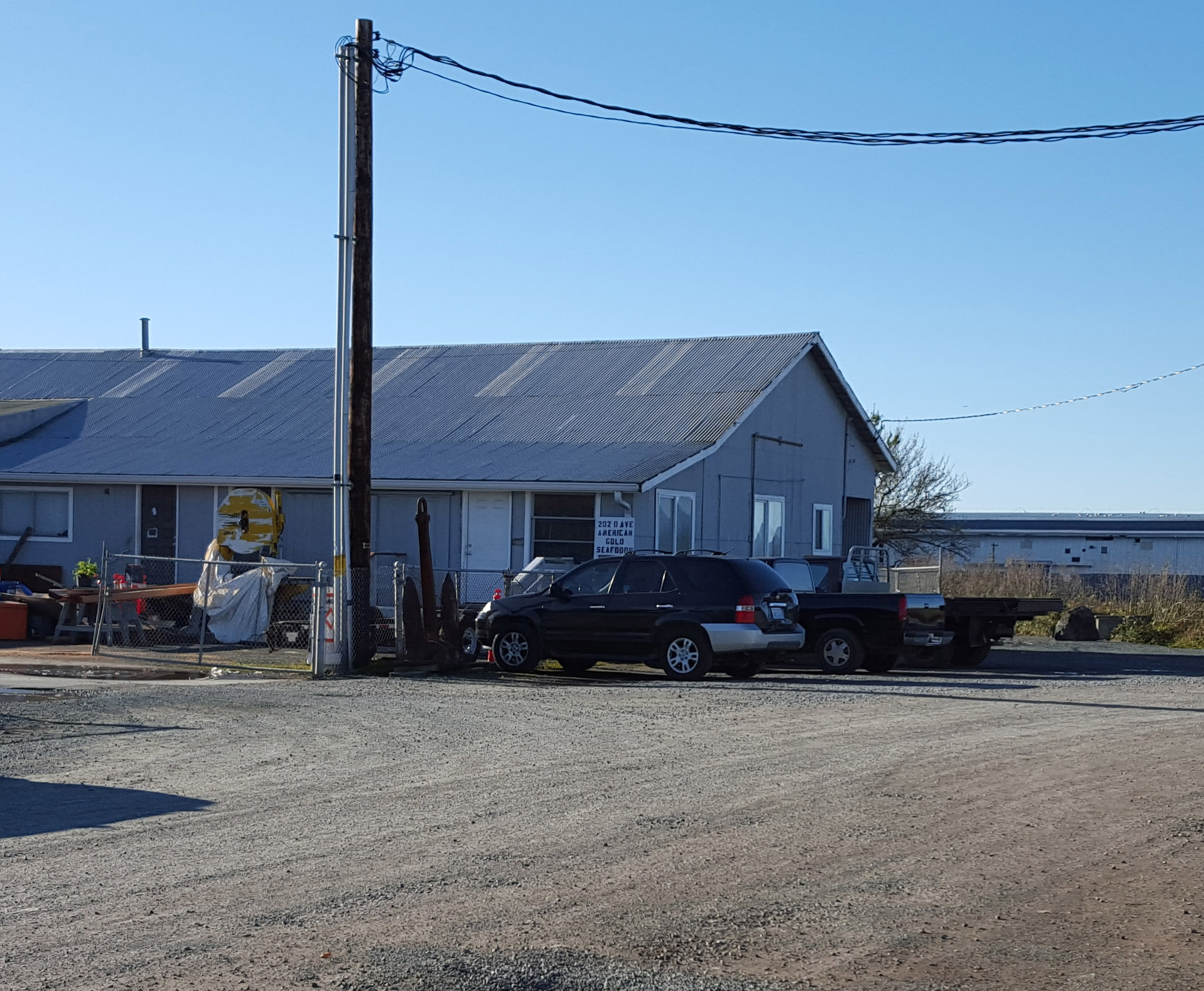 Standard Oil Building - then and now, courtesy Anacortes Museum
The cleanup process
Prior to any cleanup, extensive planning for redevelopment must take place. In November 2014, the port hosted a public workshop to solicit community input on potential uses of the property. Public feedback generally was in line with the port's own feasibility analysis that found the best use for the site would be "water-dependent industrial uses" according to Port Project Manager Becky Darden. The port also is considering public access through the area on 3rd Street to avoid conflict with industrial operations and traffic on 2nd Street, providing a future link to the Guemes Channel Trail being developed by the City of Anacortes.
Also in 2014, a port investigation determined that contaminants at the site exceeded levels requiring cleanup under the Model Toxics Control Act (MTCA). Groundwater monitoring wells were installed, sampled, and found to contain petroleum hydrocarbons and arsenic. Additionally, soil samples showed hydrocarbon and heavy metal contamination, including:
• Benzene
• Toluene
• Ethylbenzene
• Xylenes
• Total petroleum hydrocarbons (TPHs)
• Carcinogenic Polycyclic Aromatic Hydrocarbons
• Naphthalenes
• Cadmium
Before redevelopment can begin, the Quiet Cove site will be remediated to address contamination. The site has been added to the list of projects being remediated under the Anacortes Baywide Cleanup program, a partnership between the Washington Department of Ecology and Port of Anacortes.
Other Guemes Channel sites included in this comprehensive shoreline cleanup include the old Wyman's Marina (now Robinson's Cove), Dakota Creek upland and shoreline, former Anacortes Box and Lumber in-water log storage area, and Railroad Avenue beach. For more information on this cleanup work visit the Trail Tales website or watch a short video at the Friends of Skagit Beaches Vimeo channel.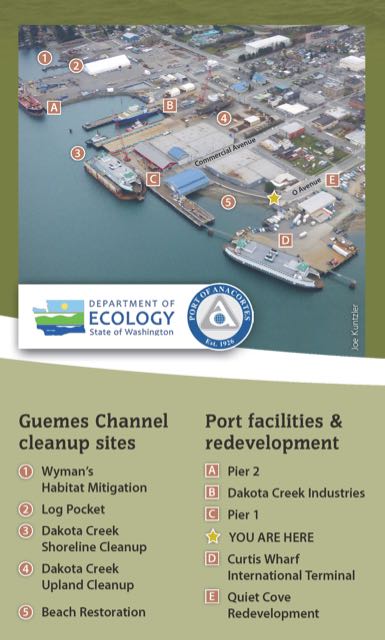 Guemes Channel Cleanup Sites, courtesy Friends of Skagit Beaches
From October 19 to November 17, 2015, Ecology solicited comments from the public on a Draft Agreed Order and Draft Public Participation Plan for Quiet Cove. The Draft Agreed Order spells out the agreement between the state and port on the remedial action needed to address the site's contamination as well as necessary additional investigations and planning.
The Department of Ecology takes the lead on engaging public awareness and contributions to project planning through their public participation plan. As a recipient of a DOE Public Participation grant, the Friends of Skagit Beaches Trail Tales project supports Ecology in this effort through our website, newsletters, and interpretive programs. For more information, visit Ecology's Anacortes Baywide Cleanup and Quiet Cove web pages.
If you missed the fall comment period, there will be future opportunities to get involved. To find out about them, subscribe to our e-newsletter, visit the Ecology public involvement calendar, or "Like" us on Facebook. For further information, contact Betty Carteret at This email address is being protected from spambots. You need JavaScript enabled to view it. or Arianne Fernandez, ecology site manager for the Toxics Cleanup Program at This email address is being protected from spambots. You need JavaScript enabled to view it..