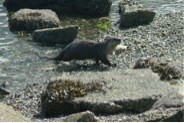 By Nancy Olsen, Trail Tales Coordinator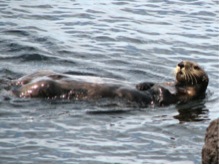 Have you seen one of the Fidalgo Bay RIVER OTTERS along the shores of the Tommy Thompson trail? It wouldn't be a big surprise to see the shiny dark furred figure scamper over the rocks or glide through the water foraging away for its meal. But it would be a big surprise to see a SEA OTTER along the shores of Fidalgo Bay or anywhere else inside the Straits of Juan de Fuca. However – a couple volunteers were lucky enough to watch a SEA OTTER busy being a sea otter at Lime Kiln Point on San Juan Island 2 weeks ago. You might do a double-take when you photo at right taken by Pete Haase (Beach Watcher, MRC Forage Fish Lead) when he was at Lime Kiln with friend and fellow Beach Watcher, Salish Sea Steward, Trail Tales docent and MRC Beach Naturalist "Dr" Bob Weathers. These pictures looked to me at first to be a RIVER OTTER because I have never known a SEA OTTER to be out of the water and I didn't know they would ever be seen in from the coastal waters. But it is a SEA OTTER and sure enough, a few occasionally are seen in the San Juan Islands.

Because of this unusual visitor and because our Trail Tales "mascot" on the logo is a RIVER OTTER, I thought you might be interested in some of the other facts about SEA OTTERS and RIVER OTTERS that I learned from investigating photos. Regarding the history and range of sea otters: Prior to the 1800's, SEA OTTERS numbered between 100,000 and 300,000 along the Pacific coast and likely many places in the Salish Sea. However the intensive harvesting for their valuable pelts that began in the 1740's, brought their numbers to near extinction in less than 100 years. There were no SEA OTTERS in Washington for more than 50 years until 1969, when 59 sea otters were reintroduced to the Washington coast from Alaska. Still the population remained small with a few communities scattered on the outer coast, and in 1981, the sea otter was listed as a state endangered species. Washington's sea otter population is surveyed annually in July through a combination of aerial and ground counts along the entire outer coast and eastward into the Strait of Juan de Fuca. The July 2012 survey produced a total count of 1,105 sea otters. The single largest concentration (562) of sea otters was at Destruction Island. No otters were sighted in the Strait of Juan de Fuca. (Source: www.eopugetsound.org) These excerpts from 3 sources reflect the rare sightings of SEA OTTERS inside the straits of Juan de Fuca in recent times:
At the present time, Washington sea otters occupy almost exclusively rocky habitat along the Olympic Peninsula coast and western Strait of Juan de Fuca. *(1)
 A few individual sea otters are occasionally seen in Puget Sound and the San Juan Islands, as well as along the Oregon coast. As of 2010, the Washington sea otter population totals just over 1,000 otters.*(2)
Reported sightings of sea otters in the San Juan Islands and Puget Sound almost always turn out to be North American river otters, which are commonly seen along the seashore. However, biologists have confirmed isolated sightings of sea otters in these areas since the mid-1990s. Professional marine mammal biologists verified a single sea otter observed near Cattle Point, San Juan Island in October 1996.*(3)
*Sources (1) http://wdfw.wa.gov/publications/00314/ (2) http://www.fws.gov/wafwo/sea_otters_history.html (3) http://en.wikipedia.org/wiki/Sea_otter)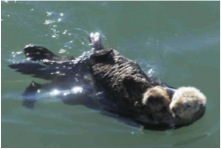 Although I was unable to find information about the population that at least occasionally hangs out in the San Juan Islands, the photo (at right) from Jim Maya who is a boat captain for whale watch tours in the islands is an indication that the one otter that Pete Haase and Bob Weathers saw 2 weeks ago has at least a few buddies out there!
Sea Otters vs River Otters In case you are like many people who don't readily see the difference between Sea Otters and River otters, visit this Seattle Aquarium presentation to learn how to tell the difference.