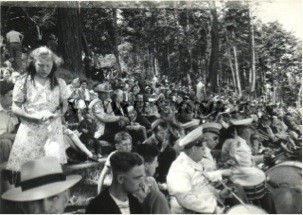 One of the new Trail Tales interpretive signs that will be installed this spring shares a bit of history about the "Island Celebrations" that Anacortes has held since the1890s. We thought we'd share with you a sneak preview of the sign, and offer some more about the wonderful old Marineers' Pageants held in the "30's and '40's:
Excerpt from new interpretive sign:
Since its days as an insular port city, Anacortes has loved a party.
When there were no roads to connect them, early settlers convened by boat for balls and midnight suppers.
In 1876, citizens honored the US Centennial with a 24 hour bash that lasted 'til dawn. Songs and patriotic orations were followed by games, dancing, and praise for the ladies' sumptuous food.
Today's waterfront festival harkens back to the Marineers'  Pageant that launched in 1937.  Touting its marine heritage, Anacortes hosted the multi-day festival with hydroplane and Indian canoe races, waterskiing, a pageant queen and grand parade.
Anacortes businesses and citizens held the summer pageant for 8 of the 12 years between 1937 and 1949 (missing 1942 – '46) and brought thousands of visitors to the city. The Anacortes Museum website reports: "Events during those years included Indian canoe races, a Mass Wedding at Causland Park in 1938, a "Cat-putter-outer Contest", pageant royalty, water events off the Marine Stadium (amphitheater) located on Cap Sante, and, of course, the parades. One parade was for children, and the other was for floats, marching bands, and other units."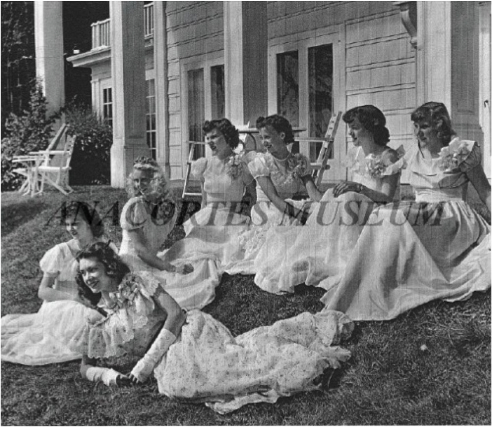 The festivities even captured the attention of Life Magazine in1948 as this article in the Anacortes American (Bulletin) reports:  "Representatives of LIFE Magazine in town for various pageant shots spent an hour Sunday morning at Causland Park taking pictures of the Queen and her Court in their formal attire in the beautiful Queen's Float."
Later they took pictures of the girls on the lawn of the Packard home on Cap Sante.
Last year some of the Trail Tales Volunteers visited the old amphitheater site for one of our meetings. We all have much in common with the earlier Anacortes residents who celebrated their lovely town and close association with the shoreline, waters and forests that we continue to enjoy today.

Perhaps you can join in some of the upcoming season of walks and events to share the history and the present through the Trail Tales program. Look for the new interpretive signs in June to learn more about the Island Celebrations of the past.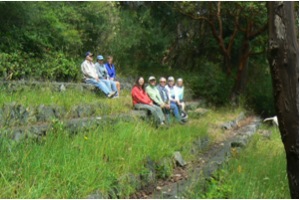 All photos courtesy the Anacortes Museum
Top:  1947 Marineer's Pagent at Cap Sante Amphitheater
Middle: 1948 Marineer's Pageant royalty at home of Doris and Lyle Packard on east side of Cap Sante at the end of 5th Street. (demolished in 2012)
Bottom:  Trail Tales docents at Cap Sante Amphitheater in 2014