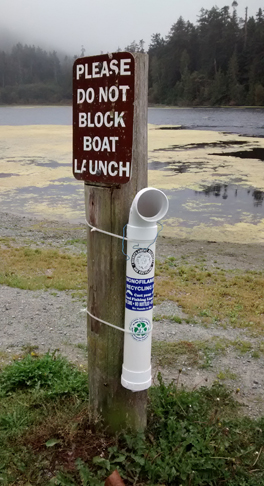 Plastic waste polluting or marine environments is a major issue that is damaging habitat and wildlife in Skagit County and around the world.  One of the sources, monofilament fishing line, is a focus area that CVP volunteers are helping to address.  Recycling tubes such as the one shown installed at Heart Lake in Anacortes have been placed at 22 popular fishing locations in our area from Bowman Bay to the Marblemount Fish Hatchery.
The project started by the Skagit Beach Watcher volunteer, Don Coleman, is being carried forward under the leadership of CVP volunteers Dick Kent and Glenda Alm – thanks for taking over the lead!  Friends continues to provide funding to covers costs of the hardware and labeling of the equipment.
A team of CVP volunteers has signed up to be a steward for each of the installation sites to empty and properly recycle the monofilament line deposited in the tubes.  Unfortunately, we often find other garbage in them that has to be sorted out from the plastic waste.  But at least the fishing line and other garbage aren't being tossed into our lakes and saltwater estuaries!