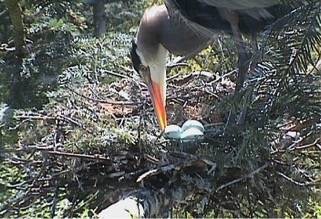 By Regan Weeks
In many ways, the Great Blue Heron is the iconic nearshore and tideland species for Skagit County.  They are present year-round, often found hunting little fish in the water or frogs and voles in our fields.  In part because of our many productive estuarine bays (Padilla, Similk, Fidalgo, Skagit) and our temperate climate, great blue herons seem to be more abundant in our part of the Salish Sea than anywhere else on the West Coast.
Herons are colonial nesters, and the March's Point heron colony (located near the Whitmarsh Landfill) is thought to be one of the largest colonies on the West Coast, easily containing over 500 nests.  An exact count is not easy to get, because while the Skagit Land Trust owns 3.5 acres of the fir forest in which the colony is built, nests are also built on neighboring properties, and the Trust does not have full access. In 2016, T Bailey Inc. worked with Skagit Land Trust to place a conservation easement upon a portion of their property within the current heronry, protecting approximately 5.5 more acres (or a total of 9 contiguous protected acres.
Herons begin returning to refurbish their nests in late February/early March; egg laying happens by mid to late March; and first hatching starts in late April.  We know the specifics for this particular colony because Skagit Land Trust, working in partnership with the Padilla Bay National Estuarine Research Reserve Interpretive Center and others, installed a camera high in a Douglas fir in 2006 to enable us to look down directly into heron nests.  The system was upgraded in 2014, and during the last season the camera lens could be remotely operated to look directly into 15 different nests.  We could watch vicariously as parents brought food to their growing chicks and as the chicks squabbled among themselves for scraps.  The chicks are bottomless pits, always waiting for their parents to bring them something more.
The camera is manipulated via the computer at the Interpretive Center and fulfills two purposes:
1)     During the nesting season, volunteers can show visitors the herons and chicks on nests on the monitor, helping visitors to learn more about herons and our environment, and
2)     After training with the Land Trust stewards, Jim & Levy Scheltens, volunteers can help collect citizen science data such as nest success, predation events, behavior monitoring, chick food identification, etc.
If you wish to volunteer with heron education, please contact Samantha Russell, the Coastal Volunteer Partnership coordinator at This email address is being protected from spambots. You need JavaScript enabled to view it. If you wish to volunteer with a heron citizen science project, please contact Jim & Levy at This email address is being protected from spambots. You need JavaScript enabled to view it..
You can also view the Heron Cam from your own computer.  It is available from 9-5 daily during the nesting season – usually from March to August.  If you happen to log on when Jim & Levy are monitoring nests, get ready as your computer goes along for the ride when the camera swoops from nest to nest – it's a real thrill ride!
Note about author:  Regan Weeks is an avid birder and works as a citizen scientist gathering data on Great Blue Herons in Skagit County.