Plywood Mill: Talk About Big Business
Ancient forests spawn a century of industry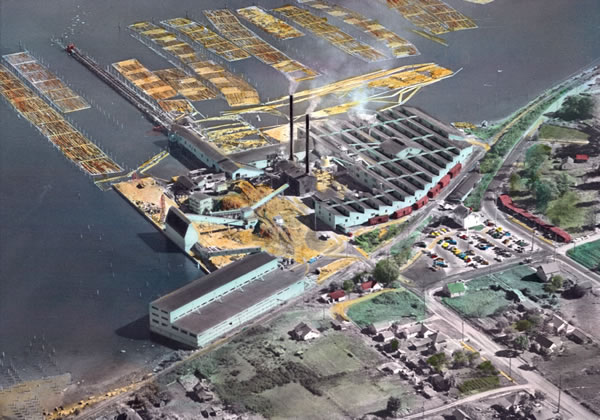 This was Anacortes Veneer—one of the foremost plywood mills in the nation. The whine of its lathes and pungent scent of glue marked the grand finale of lumber processing in Anacortes.
Beginning in 1892, a succession of mills sawed lumber and trim, as well as shingles, box parts, wooden water pipes, and plywood. Over the next 100 years, competition, fires, market shifts, and changing technology led to the closure of some mills and the launch of others.
The rise and fall of these mills reflect the dreams and disappointments, talents and triumphs of three generations of Anacortes residents carving a life out of the rugged Pacific Northwest.
When, on Sunday morning, November 29, 1992, the plywood mill disappeared in flames, it was, for many, like losing a member of the family.
Saw Mills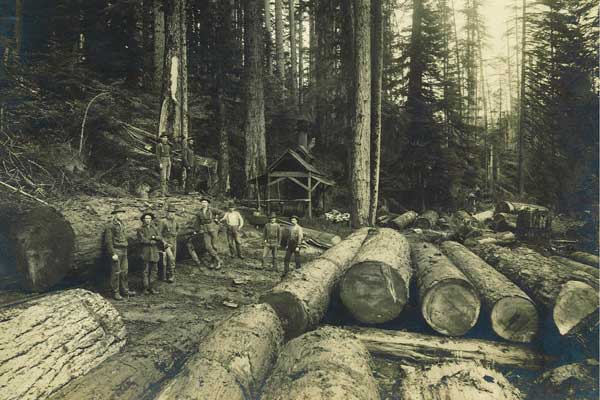 Upper Skagit County Logging Camp - image courtesy Anacortes Museum
Fidalgo Island's first mills were sawmills that cut old-growth timber into specified sizes called dimensional lumber. When, by 1905, logging had exhausted the island's local wood resources, railcars brought a seemingly inexhaustible supply of timber from the neighboring Cascade Mountains.
Shingle Mills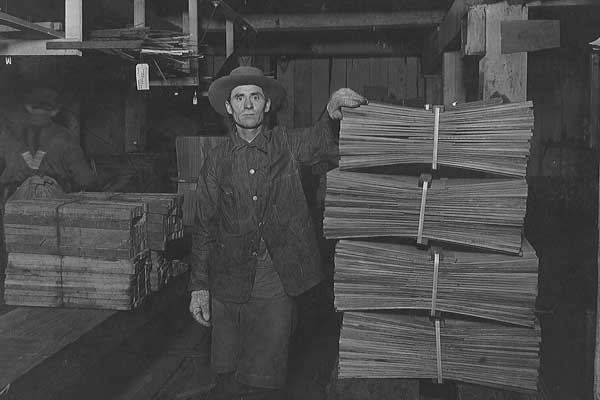 Shingle Weaver - image courtesy Anacortes Museum
The mechanized Cooperative Shingle Mill (1892–c.1897) was state of the art compared to early settlers' hand-split shakes. An abundance of rot-resistant Western red cedar enabled the mill to ship shingles by the railcar and boatload to cities across the nation.
Box Mills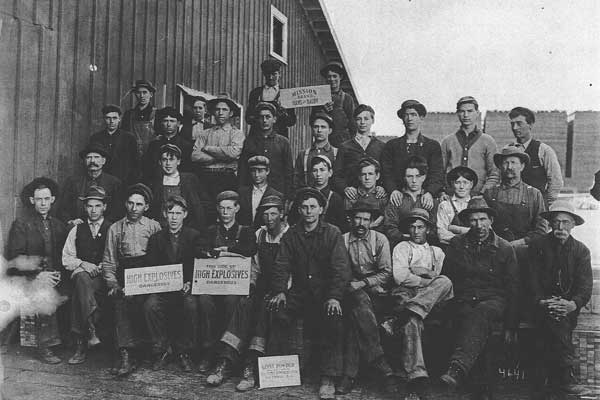 Mill workers showing box ends - image courtesy Anacortes Museum
By 1925, local box mills employed over 700 men making box "shooks"— the small boards assembled at their destination into wooden crates. Crates were used to transport everything from fruits, vegetables, eggs, canned and manufactured goods, and even dynamite.
Plywood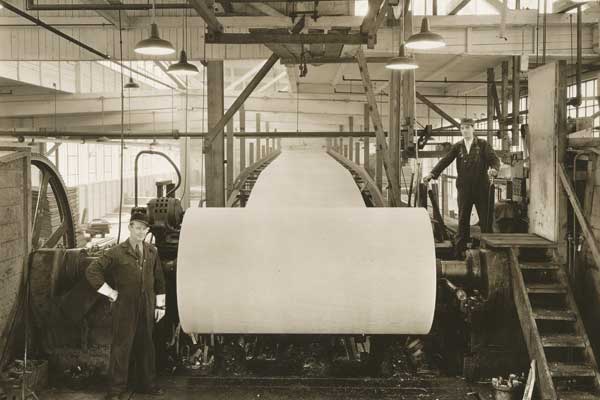 Veneer lathe - image courtesy Anacortes Museum
In 1939, Anacortes Veneer began producing plywood—a popular new building product. Continuous thin ribbons of "veneer" were peeled from large logs, then cut, dried, and glued in stacks. Placing the wood grain of successive layers in opposing directions accounted for the superior strength of the "manufactured" wood sheets.