Fidalgo Shoreline Academy 2018
Session Details and Speaker Information
Keynote Presentation:
Eelgrass, Blue Carbon and Climate Change
The valuable and surprising services of PNW nearshore marine habitats

Synopsis: Jude will take a close look at the work being done at the Padilla Bay National Estuarine Research Reserve (PBNERR) and across the Pacific Northwest to quantify the capacity of coastal wetlands such as eelgrass beds, salt marshes, and tidal swamps, to sequester and store carbon, aka "blue carbon", and the potential mitigating effect these wetlands have on ocean pH/acidification. Some opportunities for restoration associated with evolving carbon markets will also be explored.
Speaker: Dr. Jude Apple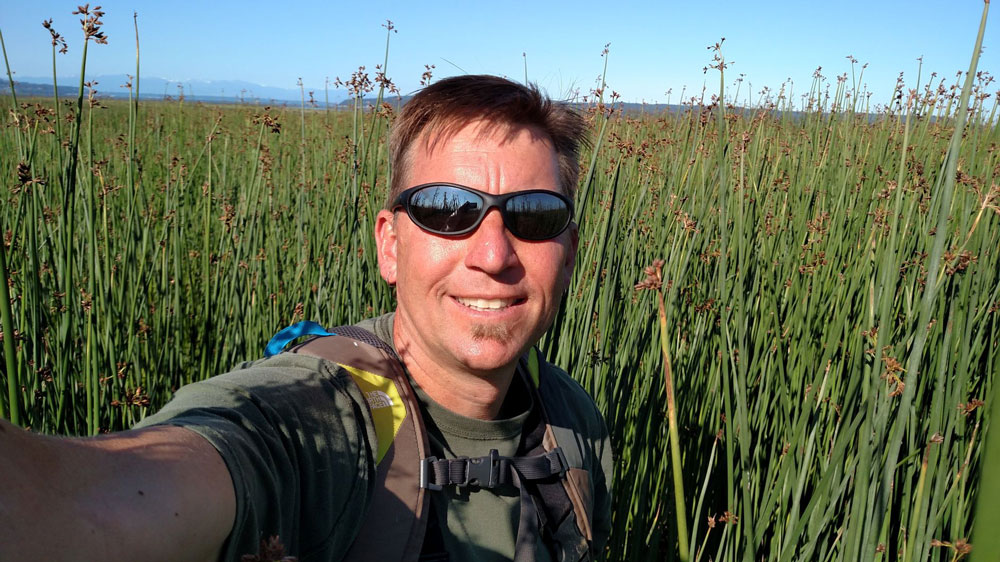 Job Title/ Organization: 
Research Coordinator Padilla Bay National Estuarine Research Reserve
Biography: Dr Jude Apple is an estuarine ecologist and Research Coordinator for the Padilla Bay National Estuarine Research Reserve (PBNERR). His research interests include ocean acidification, plankton communities, eelgrass, and response of coastal ecosystems to a changing climate – and how to use this information to achieve sustainable management of our valuable coastal resources. As Research Coordinator at Padilla Bay, Dr. Apple provides oversight and guidance for research efforts and collaborations to address local, regional and national priorities regarding coastal ecosystem science and management. Through grant funding from NOAA, he is currently conducting an assessment of carbon stocks (i.e. storage) and sequestration rates associated with coastal wetlands of the Pacific Northwest, including both native and non-native eelgrass meadows and other blue carbon ecosystems (e.g. salt marshes).
Session One:
Class 1.A:
Return of the Sea Otter 
The Story of the Animal That Evaded Extinction on the Pacific Coast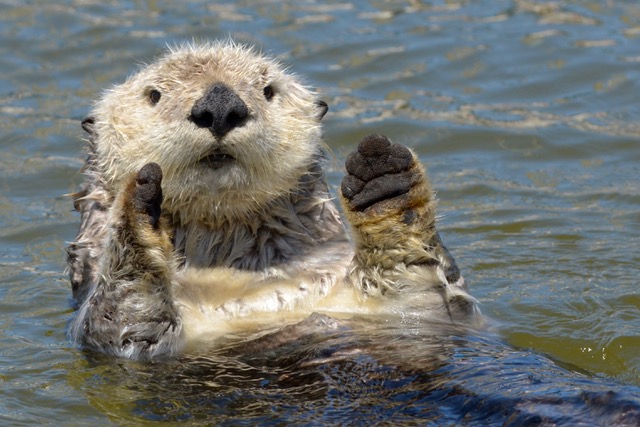 Synopsis: Join natural history author Todd McLeish as he discusses North America's cutest mammal, the sea otter, and describes his adventures studying the animals from California to Alaska. Nearly driven to extinction for their thick fur, sea otters have rebounded throughout much of their range on the Pacific Coast but are still threatened by sharks, killer whales, oil spills and other factors. Todd's book about sea otters, which was published in March, will be available for purchase and signing.
Speaker: Todd McLeish
Job Title/ Organization: Science writer and author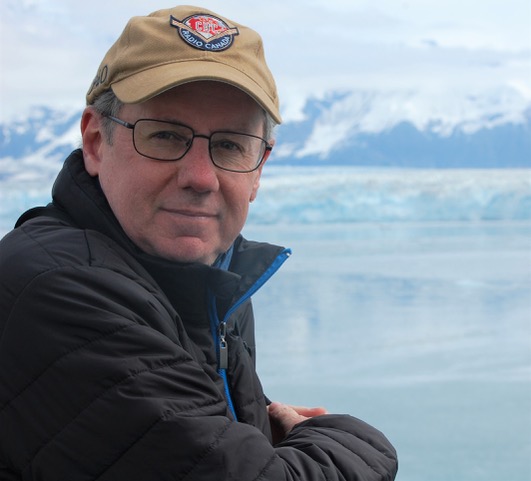 Biography: Todd McLeish is a Rhode Island-based science writer who has been writing about wildlife and environmental issues for about 25 years. In more than 200 magazine articles he has highlighted dozens of threatened species, profiled biologists and wildlife artists, and addressed such issues as invasive species, marine pollutants, renewable energy, climate change, aquaculture, and predator/prey relationships. He has published four books about rare wildlife, including Narwhals: Arctic Whales in a Melting World, which was recently translated into Japanese. His newest book, Return of the Sea Otter, was published in March 2018.
Class 1.B:
Shoreline Processes - CANCELLED. Our apologies - the speaker is ill and unable to attend! We appreciate your understanding .
Class 1.C:
Puget Sound Underwater
A conservation message about our local underwater wildlife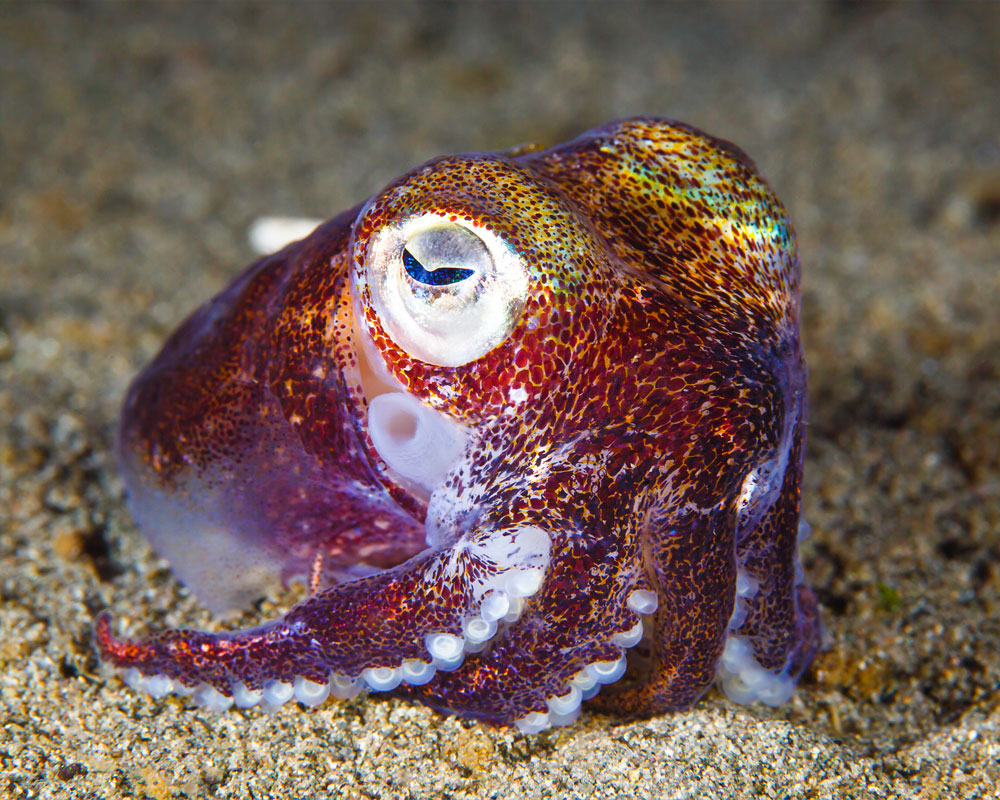 Synopsis: Drew will explore the amazing and extraordinary creatures that live and thrive in Puget Sound. Through his award winning photography, he will introduce you to the spectacular colors and diverse life that abounds just below the surface of our local waters. Learn about and see amazing Giant Pacific Octopus, Wolf eels, tiny Pacific Spiny Lumpsuckers and much more. Learn about the importance of conservation, reducing solid waste, noise pollution, over fishing and habitat loss in Puget Sound and the greater Salish Sea. Drew will be drawing much of the content for his presentation directly from his new book Puget Sound Underwater. Signed copies of his book will be available for purchase at the event.
Speaker: Drew Collins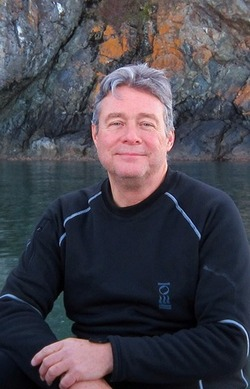 Organization/ Job Title: President and Founder, Made in Puget Sound
Biography: Drew's life and work has been inspired by Puget Sound. He was born and raised around the beautiful mountains, valleys, lakes, rivers and streams that support life in this area. Growing up hiking, biking, swimming, and traveling all around the region has made him an advocate for a cleaner and healthier environment. He volunteers much of his time supporting life sciences, environmental and conservation activities that directly benefit the Puget Sound region. His presentations and blogs educate, enlighten and inspire people to maintain a healthy and vibrant Puget Sound today, tomorrow and the future.
SESSION 2:
Class 2.A:
Monitoring Bull Kelp of the Salish Sea
Kayaks and technology help understand this important alga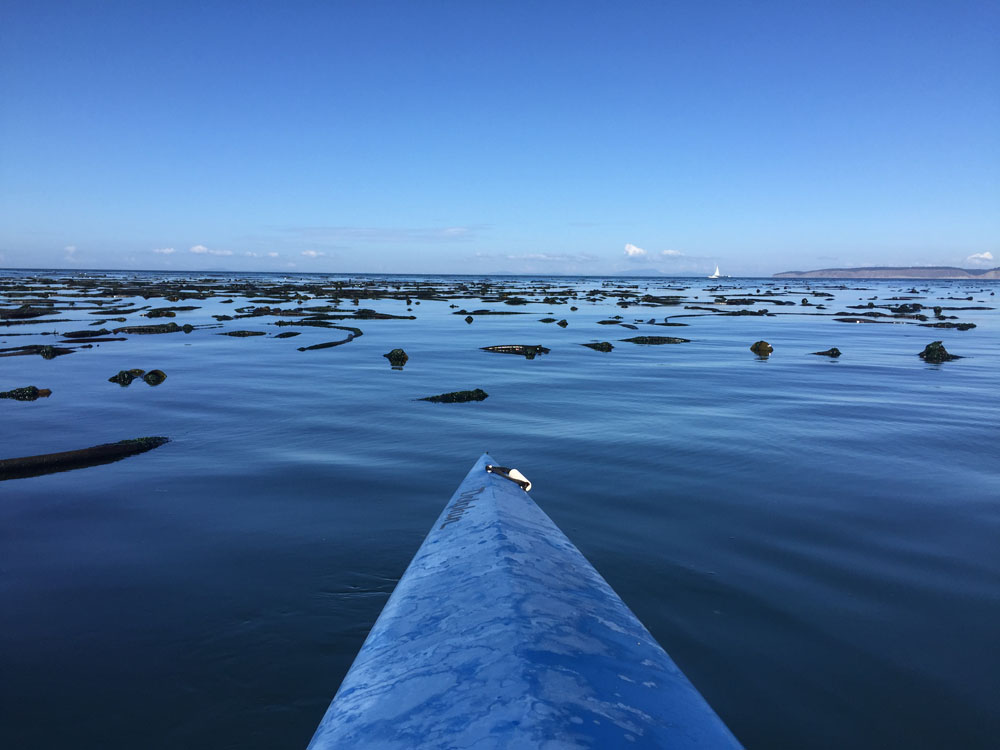 Synopsis: Bull kelp (Nereocystis luetkeana) abundance in the Salish Sea experienced measureable loss in 2014, followed by a spatially complex pattern of partial recovery through 2017. This talk will demonstrate how GIS technology is used to expose these large scale macro changes using data collected by volunteer kayakers from Skagit and six (6) other Marine Resource Committees (MRCs) in combination with regional monitoring data from the Washington Department of Natural Resources (DNR).
Speaker(s): Suzanne Shull/Helen Berry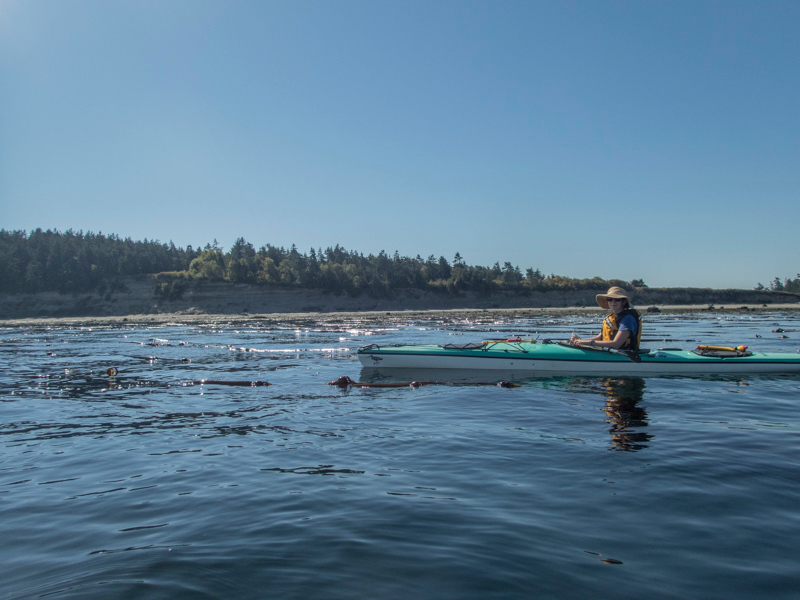 Job Title/ Organization: GIS Specialist/Marine Ecologist, Padilla Bay National Estuarine Research Reserve (PBNERR)/Washington Department of Natural Resources – Nearshore Habitat Program
Biographies: 
Suzanne Shull is the GIS Analyst for the Padilla Bay National Estuarine Research Reserve and Northwest Straits Initiative. She has been using GIS and remote sensing to map and track changes in the intertidal habitats of Padilla Bay since 1997. She began work with the Northwest Straits Initiative in early 2000's to help get data into the hands of citizen scientists through the web mapping application SoundIQ and web maps of kelp kayak survey data.
Helen Berry maps and monitors intertidal and subtidal habitats for the Nearshore Habitat Program in the Washington State Department of Natural Resources (DNR). Current projects include long-term monitoring of canopy-forming kelp, changes in nearshore vegetation in response to Elwha Dam removal, development of a Marine Vegetation Atlas, and intertidal biotic community monitoring. Her other work includes eelgrass monitoring, vegetation surveys using a variety of techniques, and administrative management of the Nearshore Habitat Program. Helen has worked with DNR since 1995, and holds an M.S. in Oceanography from Oregon State University.Bay National Estuarine Research Reserve and Northwest Straits Initiative. She has been using GIS and remote sensing to map and track changes in the intertidal habitats of Padilla Bay since 1997. She began work with the Northwest Straits Initiative in early 2000's to help get data into the hands of citizen scientists through the web mapping application SoundIQ and web maps of kelp kayak survey data.

Class 2.B:
The Treaty of Point Elliott of 1855
How does it affect Skagit County today?
Synopsis: This presentation will cover the history and creation of tribal treaty rights, how treaty fishing rights are managed between the state and tribes, and how those rights impact Skagit County today. During the past two decades, tribal interests have extended well beyond reservation boundaries and include the rights of tribes to protect off-reservation natural resources in the network of rivers and watersheds throughout the state – these involve the right of fish passage to streams and spawning areas impacted by roads and culverts (the subject of the recent decision by the United States Supreme Court in the "culvert case"), the right to minimum levels of instream flows in tributaries to protect fish particularly in spawning areas (the focus of the State Supreme Court's Hirst Decision and the recent legislative Hirst Fix), the right to protect riparian areas that affect the survival of fish both before and after spawning occurs (culminating in a decision by the State Supreme Court in the Swinomish Tribe's challenge to Skagit County GMA regulations), and most recently the rights of tribes to protect cultural interests including artifacts and human remains through their delegated federal authority under the National Historic Preservation Act.
Speaker: Allan Olson
Job Title/Organization: General Manager, Swinomish Indian Tribe
Biography: Allan is the General Manager for the Swinomish Indian Tribal Community. As Chief Administrative Officer of the Tribe, Allan is responsible for the supervision of 325 government employees and directly supervises the directors of 12 governmental departments. Allan has held this position for 17 years and prior to that served as the Tribe's General Counsel and Director of the Tribe's legal department for 20 years. He has an undergraduate degree in Political Science from the University of Washington and earned his law degree from the University of Puget Sound. 
His goal in law school was to practice environmental law and during his second and third year of law school he worked as an intern for the United States Environmental Protection Agency (EPA) in their Regional Counsel's Office in Seattle. It was during this period, he worked with the Colville Tribe to implement the first tribal water quality standards in Washington State under the Federal Clean Water Act. After graduation, he joined a law firm in Seattle that represented the Colville Tribe, specialized in Federal Indian Law and represented Indian Tribes throughout the Western United States.

In 1981, he became the first "in-house" attorney for the Swinomish Indian Tribe and founded the Tribe's legal department which has since grown to seven (7) attorneys and three (3 paralegals. He represented the Swinomish Tribe before the Federal District Court during Phase I of the Boldt Treaty Fishing Litigation, before the State Growth Management Hearings Board in litigation involving the Growth Management Act and coordinated the work of private counsel performing work on special projects such as bond financing and environmental litigation. He became the Tribe's General Manager in 2001.
Allan is an active backpacker, kayaker and member of the Washington Mountaineers Club.
Class 2.C
Minke Whales
The other whales of the Salish Sea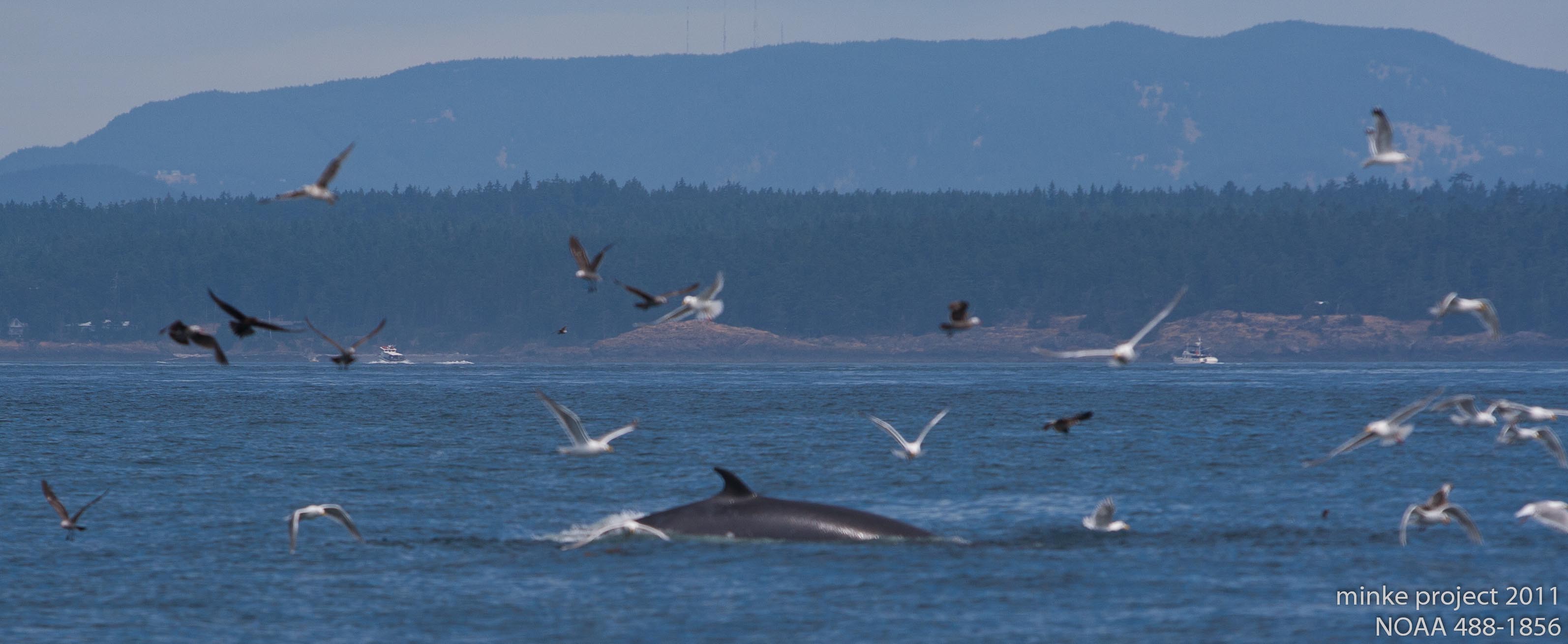 Synopsis: The focus of Frances's presentation will be about the Minke whales of the Salish Sea and the Northeast Pacific, putting today's observations into the context of the past. She will tell the story of this rare (to our corner of the world) little whale and, in so doing, the story of the Northeast Pacific Minke Whale Project, the first study to use photo-id techniques on a rorqual whale species. She will introduce you to some of the most frequently encountered individuals over the last 10 years, including the whale of many names. She will share information about each individual and what they have taught us about their local distributions, foraging behaviors, threats and breeding behaviors, demonstrating the value of long-term photo-id and focal follow studies of these poorly understood and underappreciated little whales.
Speaker: Dr. Frances Robertson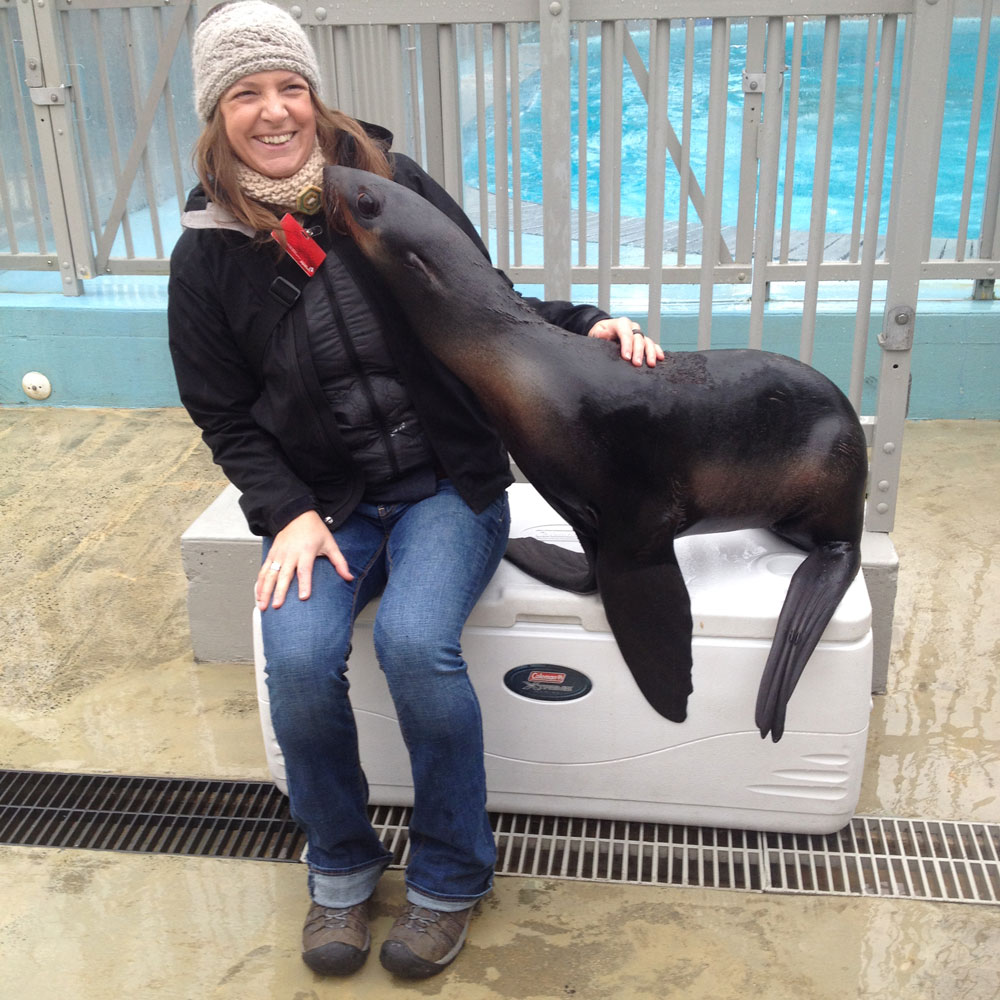 Job Title/Organization: Marine Program Coordinator, San Juan County
Biography: Frances is the Marine Program Coordinator for San Juan County and Co-PI on the Northeast Pacific Minke Whale Project. She is a wildlife biologist with over a decade of experience studying marine mammals. She first came to the San Juan Islands in 2005 to take part in a Southern Resident killer whale boat impact study. That same year she began volunteering with the Northeast Pacific Minke Whale Project and continues work with that project today as a Co-PI. Frances' research has centered on understanding how marine mammals interact with, and respond to human activities and changes within their environment. She has studied the impacts of fish farm acoustic alarms on harbor porpoise distribution, the effects of seismic surveys on bowhead whales in the Alaskan Arctic and, most recently, as part of her Post Doc at Simon Fraser University, the behavioral responses of harbor porpoise, harbor seals and Steller sea lions to tidal turbine operational noise in a playback study in Admiralty Inlet.
SESSION 3
Class 3.A
Stories of March Point
From camas cultivation to petroleum production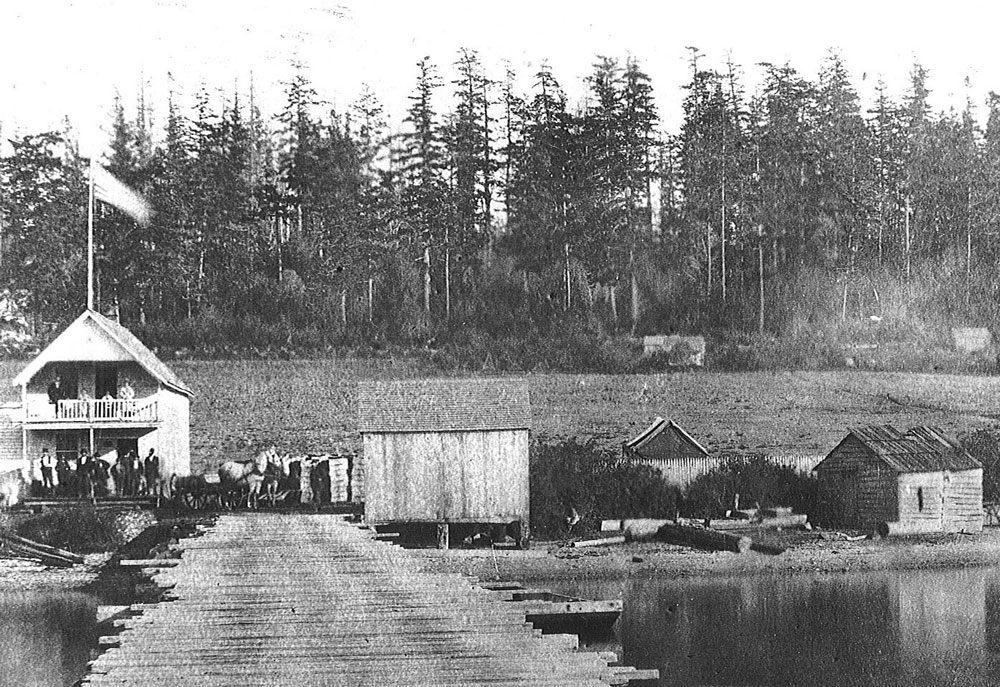 Synopsis: Have you ever wondered how March Point got that name? March Point has a long history – in fact it goes back thousands of years. Betty will share stories about the history of the place and the people who lived there. We'll discuss the peninsula's original agricultural cultivation by Samish and Swinomish tribes, early homesteading by pioneer settlers, how it became a community hub in the late 1800s, and the building of the refineries that now dominate the landscape of March Point.
Speaker: Betty Carteret

Job Title/Organization: Past President and Board Member, Friends of Skagit Beaches
Biography: Betty Carteret is a retired mechanical engineer, who moved to Anacortes in 2004 after working on environmental cleanup at the Hanford Site in eastern Washington for over 20 years. Since arriving here, she has been actively involved as a volunteer with several groups including Skagit Beach Watchers, Coastal Volunteer Partnership at Padilla Bay, and Transition Fidalgo and Friends. Betty was a founding member and served as President of Friends of Skagit Beaches for 9 years and still continues as board member. Under Betty's direction, Friends received a 4-year grant from the WA Dept. of Ecology for the Trail Tales Shoreline Interpretive Program between 2011 – 2015 that offered interpretive walks and installed 33 interpretive signs along the Tommy Thompson Trail from March Point to Guemes Channel. Betty worked closely with the Anacortes Museum on this program and has developed interpretive programs on a number of topics about the history of the Anacortes waterfront and the natural environment of local marine bays and beaches.
Class 3.B
Fungi:
We know there Are Fungi Amungi, but Where Are They and What Are They Doing?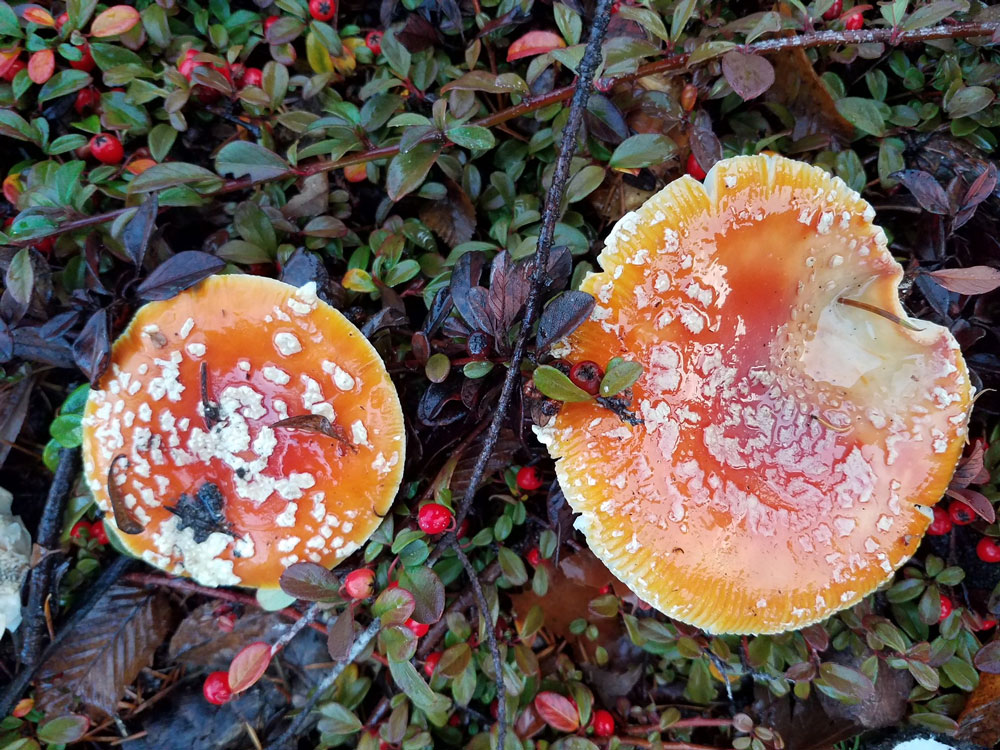 Synopsis: Fungi may be among the most misunderstood life forms on the planet. They are not plants, nor are they animals. In fact, fungi have their own kingdom, with makes them unique. Fungi play a crucial role in the balance of ecosystems, decomposing and recycling organic materials, making it possible other plants and animals to be supplied with the nutrients they need to live. Some elements, such as nitrogen and phosphorus, are required in large quantities by biological systems; yet, they are not abundant in the environment. Fungi, along with bacteria and a wide array of other microbes, release these elements from decaying matter, making them available to other living organisms. Fungi are also beneficial in their role as mycorrhizae and symbionts with algae as lichens. They can also cause devastating diseases in plants and animals, in some instances, affecting the course of history.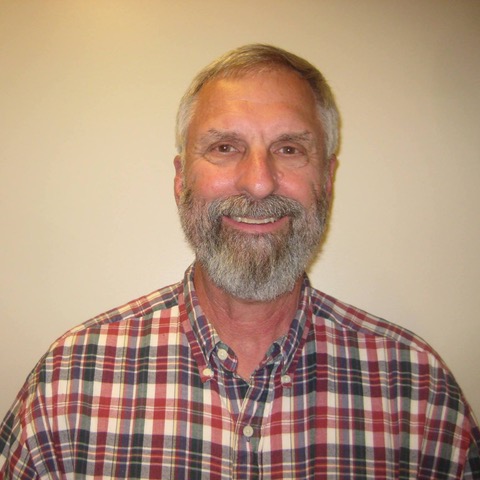 Speaker: Dr. Frank Caruso
Job Title/Organization: Professor Emeritus, University of Massachusetts, Adjunct Professor of Plant Pathology, Washington State University
Biography: A native of New Jersey, Frank has degrees in Biology (BA from Gettysburg College) and Plant Pathology (MS from the University of Massachusetts and Ph.D from the University of Kentucky). For six years, he was an Assistant Professor in the Department of Botany and Plant Pathology at the University of Maine, where he taught plant pathology courses, conducted research on apple and lowbush blueberry diseases and started the Plant Disease Clinic. Following his work in Maine, Frank spent 28 years as an Extension Associate Professor at the University of Massachusetts Cranberry Station, where he interacted with cranberry growers, ran a small fruit diagnostic clinic, conducted research on cranberry diseases and was Acting Director on two separate occasions. He retired in June 2013 and shortly thereafter moved to Edmonds to be near his two children and three grandsons. As an adjunct faculty member at WSU Mount Vernon, Frank conducted research on cranberry fruit rot from 2013-2015, and he consults for cranberry growers in Washington, Oregon and British Columbia. He became a Master Gardener for Snohomish County Extension in 2015 and he is very active in the Office Clinic and teaching Plant Pathology to other Master Gardeners.
Class 3.C
Great Blue Herons of Skagit County
Citizen scientists share some fascinating characteristics of these iconic birds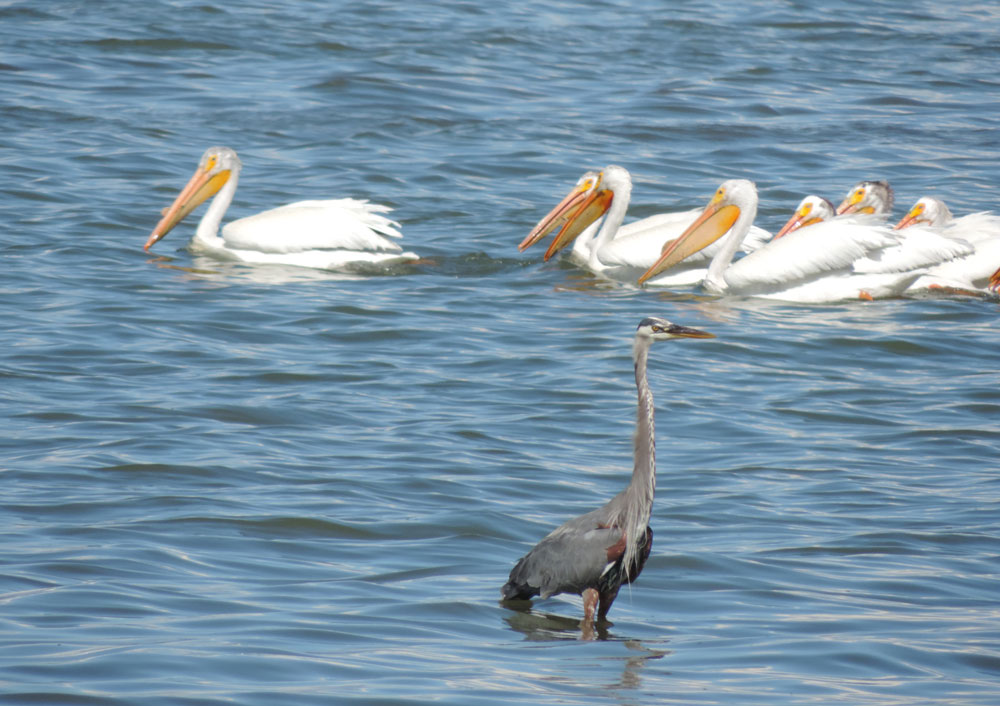 Synopsis: Skagit County has the largest concentration of Great Blue herons in the Salish Sea. Every year, around mid-February, hundreds come back to our own Padilla Bay to breed within two of the largest heron colonies in the state. Many behaviors and environmental factors have to smoothly come together for these birds to successfully fledge the many hundreds of young birds we have become accustomed to seeing each July. One of these behaviors is learning to forage in the summer eel grass beds of the Bay. Under the guidance of professional wildlife biologist Ann Eissenger and support of the Skagit Land Trust, two long-term citizen science studies have provided invaluable observations and documentation of the nesting and foraging habits for the local Great Blue herons. Anne and Sue, long-time citizen science Heron Study volunteers, will talk about what the teams have observed over the years and discuss how this information adds to our understanding of the herons, an understanding that ultimately may help protect the future of these beautiful iconic birds.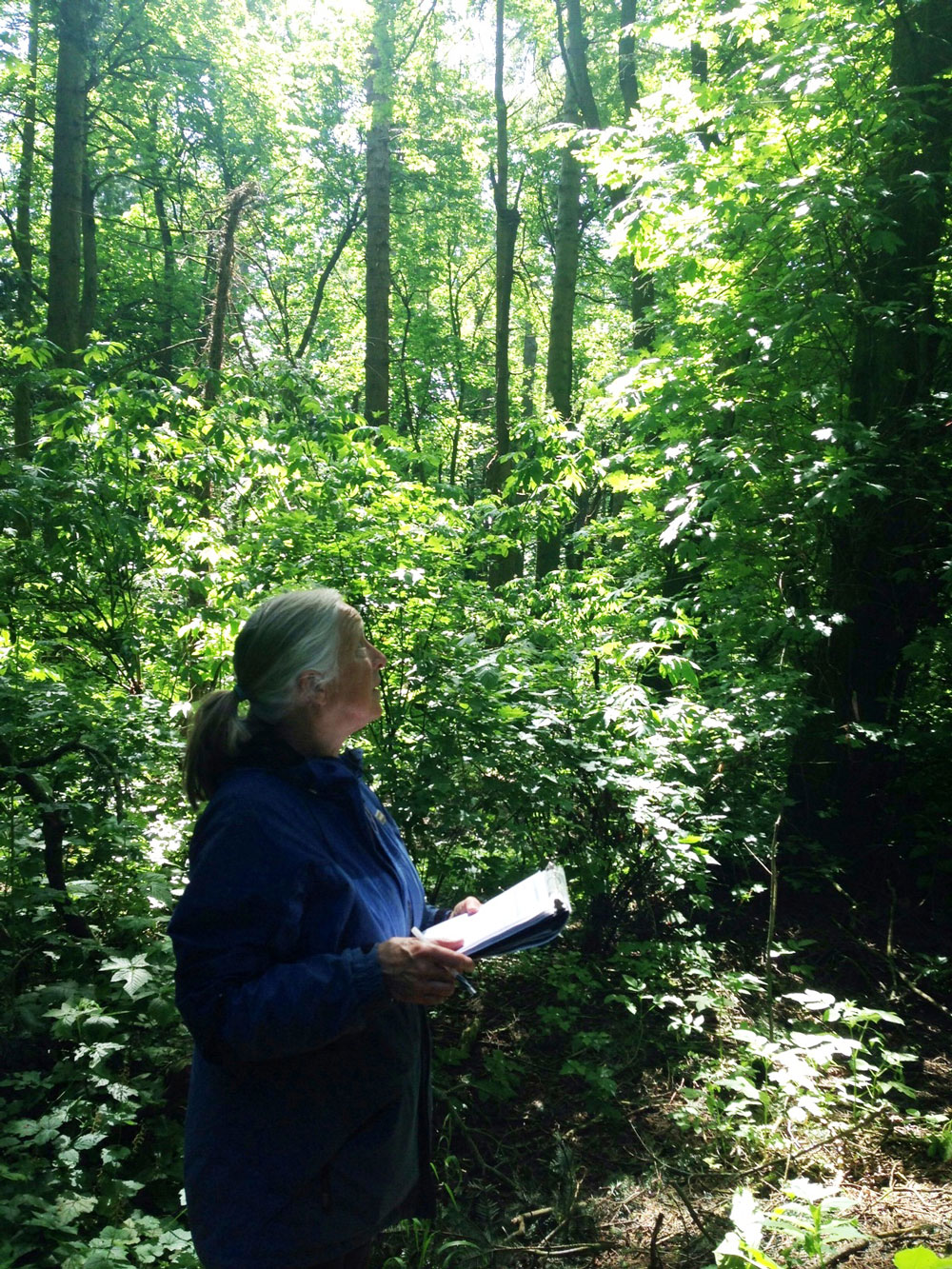 Speaker(s): Sue Ehler/Anne Winkes
Job Title/Organization: Citizen Scientists, Support from Skagit Land Trust
Biographies:
Anne Winkes: B.A. in English, Stanford University; RN, Skagit Valley College; ARNP Univ. of Washington and practiced as a pediatric nurse practitioner in Mt. Vernon for 33 years. After retirement, Anne became a volunteer citizen science observer of the Great Blue Herons at the Samish Island heronry throughout the breeding seasons (2013-2018) for the Skagit Land Trust.
Sue Ehler: B.S. Avian Sciences, U.C. Davis; NMFS Fisheries Observer, Bering Sea/Gulf of Alaska; Elementary School Secretary; currently seasonally employed Protected Marine Species Observer for in-the-water construction projects; and busy citizen science volunteer. She remembers 45 years ago in college thinking how wonderful it would be to do a study on Great Blue Herons, it certainly took a while to get to do that, but she is very happy now to be a five-year member of the Skagit Heron Foraging Study – and is looking forward to many more years to come.