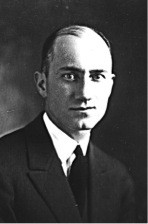 By Trail Tales Docent Peyton Kane
The vibrant Port of Anacortes is the result of many years of effort, and many people with foresight, vision, drive and connections.  Here is a picture of one of them (courtesy Anacortes American):  William F. McCracken, Jr. who served on the first board of commissioners of Port of Anacortes from 1926 to 1929.  
William McCracken was born in 1892, and lived in Anacortes from early childhood.  His father, of the same name, owned and operated the Eureka Saloon at the northwest corner of 4th Street and Commercial Avenue, and the family lived in the home behind the saloon, (now occupied by the graphic arts firm, How It Works).  In 1929 the wooden structure that housed the Eureka Saloon burned down, and William, Jr. built a new brick building on the site, which currently holds the Rock Fish Grill.