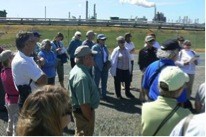 On May 13th, Trail Tales volunteers and members of other leading conservation groups were hosted by Tesoro Refinery for a tour of the March Point Facility.  Initially intended to be a Trail Tales extended learning opportunity, Tesoro Lead Environmental Engineer Rebecca Spurling, and several other staff and managers offered to host as many as the chartered motor coach would accommodate for a "perimeter tour".  This enabled Trail Tales to invite members from Fidalgo Bay Aquatic Reserve Citizen's Committee and the Marine Resources Committee representatives Salish Sea Stewards volunteers.
The tour began in Anacortes and included stops at various points on March Point with Tesoro project leads and managers and specialists providing information about operations at the refinery and pier and rail transfer facilities, marine/water protection, oil spill response and conservation efforts. At one stop, Toby Mahar, engineer from the Northwest Clean Air Agency regulatory staff explained air emissions monitoring and regulation that she is involved in at the refineries.
Tesoro also provided a picnic lunch for attendees which expanded the opportunity for community members and Tesoro staff to engage with each other informally.  Trail Tales volunteers now have a better understanding of the Tesoro refinery operations and environmental protection programs, which they can refer to when questions are raised during our walk programs. The tour lasted approximately 4 hours and all participants felt it had been very valuable and informative.