Trail Tales premiers first short film at Films with Friends . . .
On October 10th, Trail Tales premiered a short documentary filmed and edited by Ryan Hasert, a recent Western Washington University graduate.  The film was funded by Friends of Skagit Beaches under a grant from WA Department of Ecology.  If you missed the premiere, you can view the documentary at Vimeo on the Friends of Skagit Beaches channel.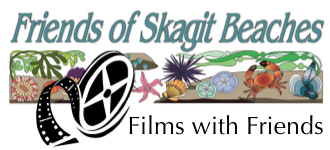 COMING UP ON OCTOBER 24th
BagIt - Is your life too plastic?
7PM at the NW Educational Services District Building
 Americans use 60,000 plastic bags every five minutes—single-use disposable bags that we mindlessly throw away. But where is "away?" Where do the bags and other plastics end up, and at what cost to our environment, marine life and human health?
Bag It follows "everyman" Jeb Berrier as he navigates our plastic world. Jeb is not a radical environmentalist, but an average American who decides to take a closer look at our cultural love affair with plastics. Jeb's journey in this documentary film starts with simple questions: Are plastic bags really necessary? What are plastic bags made from? What happens to plastic bags after they are discarded?
Jeb looks beyond plastic bags and discovers that virtually everything in modern society—from baby bottles, to sports equipment, to dental sealants, to personal care products—is made with plastic or contains potentially harmful chemical additives used in the plastic-making process. When Jeb's journey takes a personal twist, we see how our crazy-for-plastic world has finally caught up with us and what we can do about it. Today. Right now.
 More details on our calendar listing.
Become a member of Friends and help us preserve and protect our local marine treasures
Friends of Skagit Beaches is dedicated to supporting environmental education, citizen science, and stewardship. Our aim is to protect and preserve the local shoreline and marine treasures of Skagit County. Member donations support projects that help achieve this, so we invite you to become a Friends member today.
Our members and volunteers are your friends and neighbors. They work in their local communities to help people understand and protect the saltwater world around them. Friends works in partnership with other nonprofits, volunteers and researchers to protect our corner of the Salish Sea. Our projects contribute to Washington's efforts to restore the health of Puget Sound. Join us in preserving these important local resources for our enjoyment, our economy, and for future generations., Anacortes