Trail Tales premiers third short film at Films with Friends . . .
On November 7th, Trail Tales premiered a short documentary filmed and edited by Anacortes local filmmakers Lucas and Henry Holgeerts.  Lucas (WWU student) and Henry (Anacortes High) have their own film company, Kalos Creative Services.  This film is a nod to Calvin and Hobbes, with 9 year old Matthew and Reg, his best (imaginery) river otter friend.  After finding out their favorite place, The Lake, is polluted, they jump into action to help educate the community about the problem.  This is a very endearing film that is fun to watch.  The film was funded by Friends of Skagit Beaches under a grant from WA Department of Ecology.  If you missed the premiere, you can view this and other short films at Vimeo on the Friends of Skagit Beaches channel at https://vimeo.com/user33200738/videos.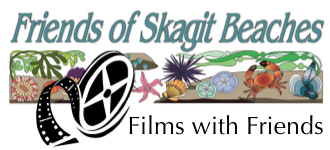 NOTICE - Road Construction 11/3 - 11/21 - 

click for map
 COMING UP ON November 21st
The Whale - The True Story of Luna
7PM at the NW Educational Services District Building
THE WHALE tells the true story of a young, wild killer whale - an orca - nicknamed Luna, who lost contact with his family on the coast of British Columbia and turned up alone in a narrow stretch of sea between mountains, a place called Nootka Sound.
Orcas are social. They live with their families all their lives. An orca who gets separated usually just fades away and dies. Luna was alone, but he didn't fade away. There weren't any familiar orcas in Nootka Sound, but there were people, in boats and on the shore. So he started trying to make contact. And people welcomed him. Most of them.
This contact did not turn out to be simple. It was as if we humans weren't ready for him.
 More details on our calendar listing.
Become a member of Friends and help us preserve and protect our local marine treasures
Friends of Skagit Beaches is dedicated to supporting environmental education, citizen science, and stewardship. Our aim is to protect and preserve the local shoreline and marine treasures of Skagit County. Member donations support projects that help achieve this, so we invite you to become a Friends member today.
Our members and volunteers are your friends and neighbors. They work in their local communities to help people understand and protect the saltwater world around them. Friends works in partnership with other nonprofits, volunteers and researchers to protect our corner of the Salish Sea. Our projects contribute to Washington's efforts to restore the health of Puget Sound. Join us in preserving these important local resources for our enjoyment, our economy, and for future generations., Anacortes