2015 Fall Film Series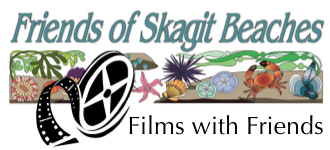 Get there early for a seat at this fall's popular film series! Building on last year's resounding success, Friends of Skagit Beaches and the Trail Tales project are again offering four feature-length, environmental-themed documentaries at its Friday film nights, October 9th & 23rd and November 6th & 20th. Prior to each showing, a short, student-made documentary will debut on topics of local interest and attendees will have an opportunity to meet the talented local filmmakers.
View the Films with Friends poster or the events calendar for film showing information. 
Friends of Skagit Beaches is . . .
. . . dedicated to supporting environmental education, citizen science, and stewardship. Our aim is to protect and preserve the local shoreline and marine treasures of Skagit County. Member donations support projects that help achieve this, so we invite you to become a Friends member today.
Our members and volunteers are your friends and neighbors. They work in their local communities to help people understand and protect the saltwater world around them. Friends works in partnership with other nonprofits, volunteers and researchers to protect our corner of the Salish Sea. Our projects contribute to Washington's efforts to restore the health of Puget Sound. Join us in preserving these important local resources for our enjoyment, our economy, and for future generations.