2016 Winter Lecture Series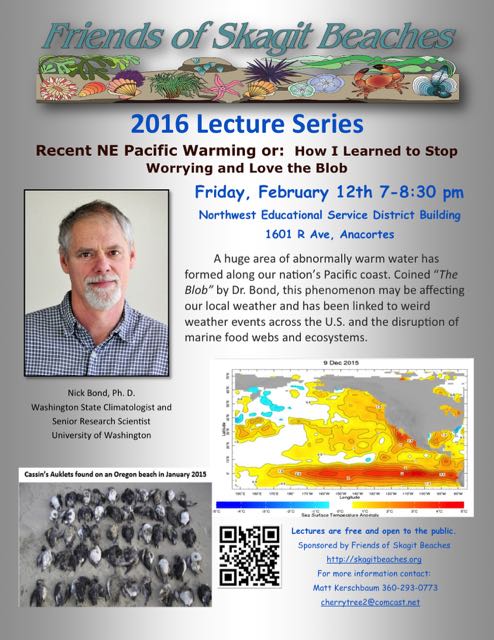 The 2016 Lecture Series sponsored by Friends of Skagit Beaches runs from January - April.. Lectures are held at the NWSED Building  (map) in Anacortes on select Fridays starting at 7pm. This series is free and open to the public.  The full schedule can be found on our web calendar.  Next up: "Recent NE Pacific Warming or How I Leared to Stop Worring and Love the Blob by Nick Bond, Ph.D. on Friday, February 12. 
Student-Made Marine Film Shorts
As part of the 2015 Fall Film Series, Trail Tales funded two short, student-made films about topics relevant to Skagit County. WWU student filmmaker shared  "Forage Fish of the Salish" and "Skagit Marine Reserves: Anchor for an Ecoystem" was shown during the fall film series. You can view these films on the Friends of Skagit Beaches Vimeo channel.
Friends of Skagit Beaches is . . .
. . . dedicated to supporting environmental education, citizen science, and stewardship. Our aim is to protect and preserve the local shoreline and marine treasures of Skagit County. Member donations support projects that help achieve this, so we invite you to become a Friends member today.
Our members and volunteers are your friends and neighbors. They work in their local communities to help people understand and protect the saltwater world around them. Friends works in partnership with other nonprofits, volunteers and researchers to protect our corner of the Salish Sea. Our projects contribute to Washington's efforts to restore the health of Puget Sound. Join us in preserving these important local resources for our enjoyment, our economy, and for future generations.