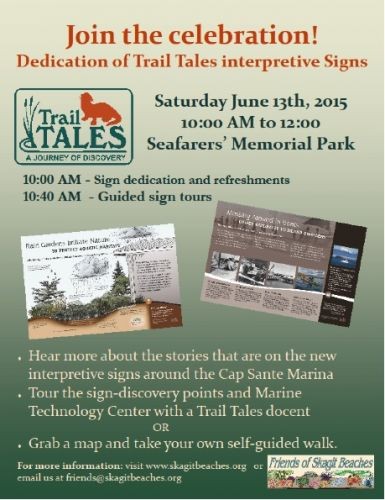 Friends of Skagit Beaches is working with the Port of Anacortes and City of Anacortes to install sixteen new interpretive signs between 17th Street and Guemes Channel. Join us on June 13th at the Seafarers' Memorial Park for a sign dedication ceremony and walking tour to see the new signs. Trail Tales docents will be available at the new signs to share stories about the topics portrayed in the signs. Join us for a guided tour, or you can pick up the new trail map and do your own self-guided walking tour. The Marine Technology Center will also be hosting an open house from 10:30 to noon as part of the event.
The new interpretive signs start on the sidewalk along Q Avenue in front of the Marine Technology Center, winds through the marina, and then jump to Guemes Channel. But on your way to Guemes Channel don't forget to stop at the Museum's interpretive signs by the W.T. Preston Snagboat and the Depot on R Avenue just north of the marina.
Have you wondered how these signs come about? Well it doesn't happen overnight. In fact, it takes about a year start to finish. A small group of individuals put in a lot of time and dedication to make it happen. Here's how it works . ..