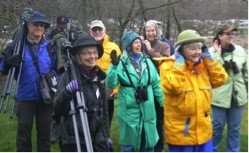 By Betty Carteret, Friends of Skagit Beaches Board President
It's hard to believe the end of our first two-year Public Participation Grant is coming up on June 30th. We've accomplished a lot and WA Ecology has been very pleased with the work we've done. In a recent meeting Ecology shared that they have seen an increase in public participation and more sophistication in the comments submitted during their formal comment periods. Well that's exactly what we were hoping. Our program is a new innovation from the type of projects they've funded in the past and they like it. In addition, this program increases the general literacy of residents about local history and ecology, and creates a personal connection and sense of stewardship in protecting the health of our shoreline and marine ecosystems.
Since June 2011, we've trained over 20 docents who are providing fun and interesting interpretive programs along the Tommy Thompson trail on a variety of topics. Attendance has been great (an average of 22 attendees at our trail walks) and audience feedback shows the docents are doing a great job offering interesting presentations.  Our walks are open to all ages and the trail is handicap accessible.