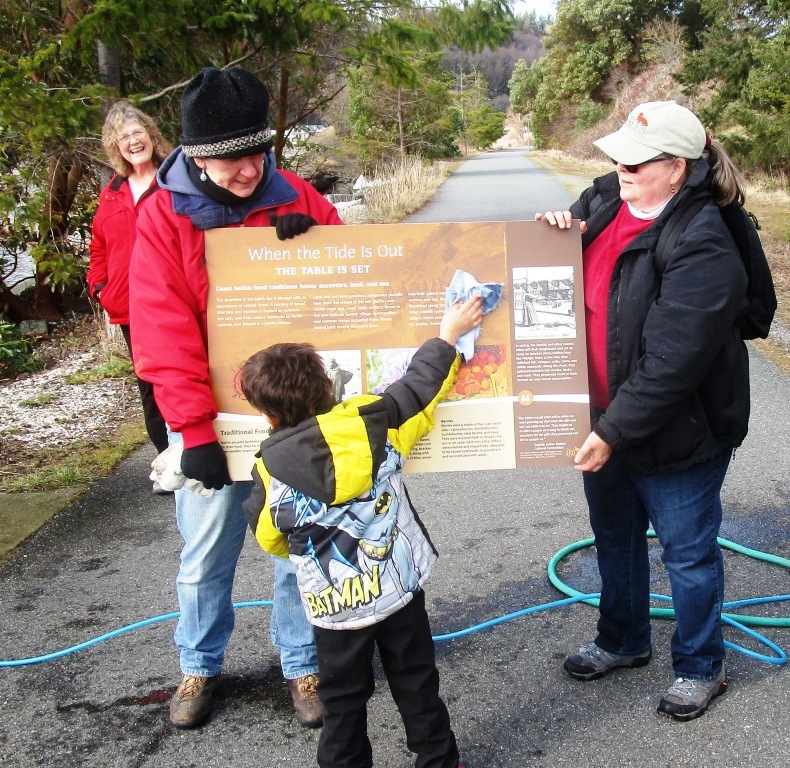 A helping hand with our volunteers
In 2013, Friends of Skagit Beaches' Trail Tales project worked with the City of Anacortes Parks & Recreation Department to install the first group of interpretive signs along the Tommy Thompson Trail between 34th Street and March Point. Over the years, several signs were vandalized and other damaged by seagulls dropping shells along the causeway and trestle.
Last year, Project Lead Betty Carteret received funds from the 2018 Anacortes Lodging Tax fund to replace several signs with the most damage. Working with the sign manufacturer, IZone Imaging, it was determined that this group of signs had a manufacturing defect that was contributing to early deterioration. IZone offered to replace all the signs in that group at no cost under warranty. Friends didn't have to spend a dime to get 15 new signs to replace the old signs along the trail.
We really appreciate the outstanding customer service offered by IZone Imaging. 
On March 8th with support from Anacortes Parks & Recreation staff, a group of 8 volunteers removed the old signs, cleaned the aluminum support frames, and installed 15 new signs. Thank you to all who helped get the job done!
The interpretive signs tell the storying of the history of Anacortes' working waterfront; the ecology of the shoreline and watershed; activities that led to shoreline pollution; and the Anacortes Baywide Cleanup project that has restored the shoreline along Fidalgo Bay. The signs are popular stopping points along the trail and are visited by many residents, tourists, and visitors staying at the Fidalgo Bay Resort. You can pick up a map brochure guiding you to see the interpretive signs at the Anacortes Visitors Center, Cap Sante Marina Office, or the Anacortes Library.
Learn more about our Trail Tales interpretive signs here 
You can attend an update on the Baywide Cleanup project (the Custom Plywood Mill site) on March 25th @ 11 am at the Anacortes Library.
With the weather improving and Spring on its way, grab your trail map and head out for a Journey of Discovery along the Tommy Thompson trail. If you'd like more information about the interpretive trail, you can contact Betty Carteret at This email address is being protected from spambots. You need JavaScript enabled to view it..