2017 Lecture Dates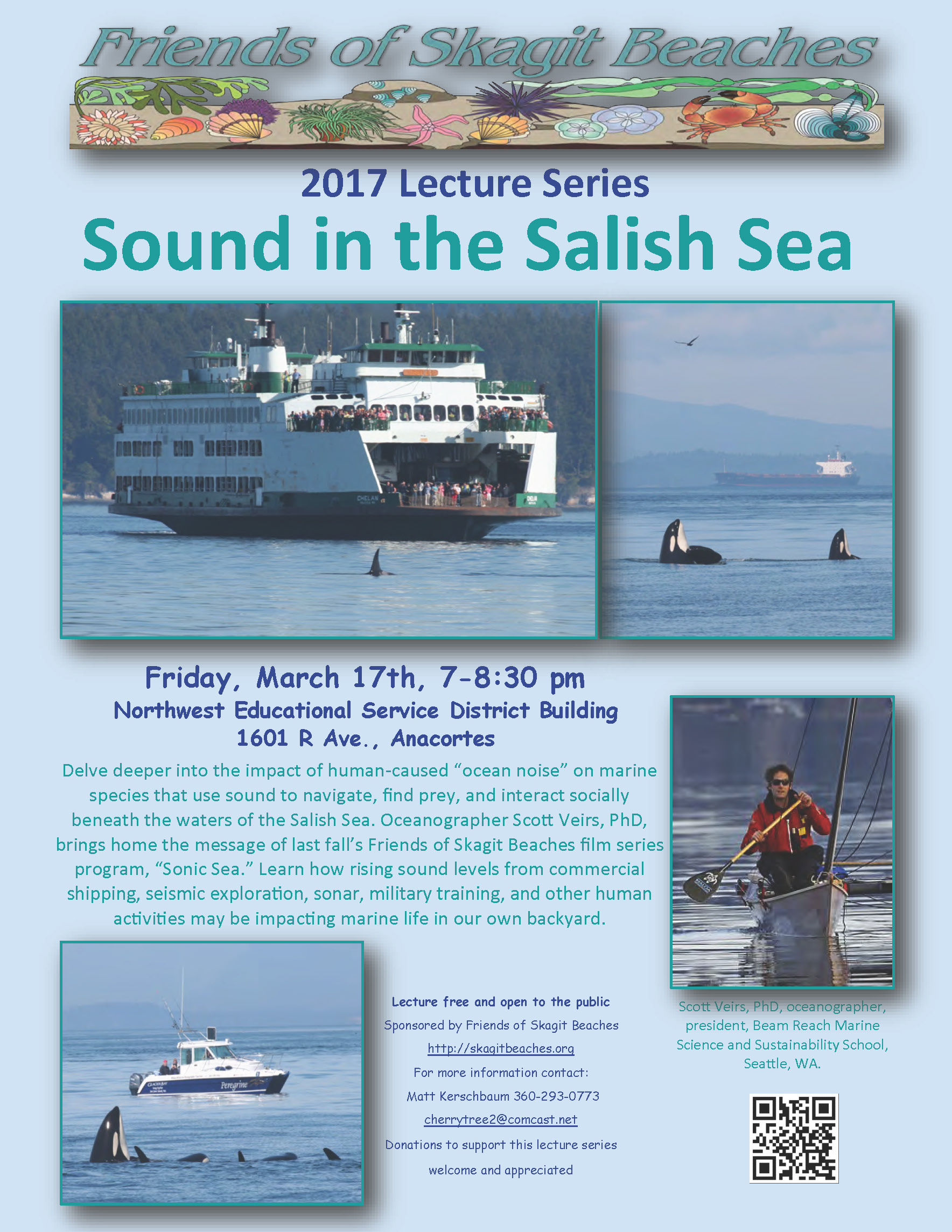 January 20, February 17, March 17 & April 21
Lectures are free and open to all ages.
Friday nights at 7 PM
NWESD Building, 1601 R Avenue, Anacortes
For more information contact us at This email address is being protected from spambots. You need JavaScript enabled to view it.. 
Click date links below to find more information on location on our calendar.
Click link to download a one page schedule for the  2017_Lecture_Series_full_page.pdf
March 17, 7PM at NWESD Building
"Sounds in the Salish Sea"
Scott Veirs, PhD, oceanographer, president, Beam Reach Marine Science & Sustainability School, Seattle, WA
Delve deeper into the impact of human-caused "ocean noise" on marine species that use sound to navigate, find prey, and interact socially beneath the waters of the Salish Sea. Oceanographer Scott Veirs, PhD, president of Beam Reach Marine Science and Sustainability School, Seattle, Wa., brings home the message of last fall's Friends of Skagit Beaches film series program "Sonic Sea." Learn how rising sound levels from commercial shipping, seismic exploration, sonar, military training, and other human activities may be impacting marine life in our own backyard. Friday, March 17, 2017. 7:00 - 8:30 p.m., NW Educational Service District Buildg., 1601 R Ave., Anacortes. Lectures are free and open to the public. Sponsored by Friends of Skagit Beaches http://skagitbeaches.org   For more info. contact: Matt Kerschbaum, This email address is being protected from spambots. You need JavaScript enabled to view it.
Coming up next:
April 21         7PM
"Exploring the Salish Sea Floor"
Dr. H. Gary Greene, director, SeaDoc Society/Moss Landing Marine Labs' Tombolo Mapping Lab, Orcas Island, professor emeritus, Moss Landing Marine Labs research faculty scientist, Friday Harbor Labs,  University of Washington
Why do marine birds, fish, and mammals feed where they do? How do tsunamis and earthquakes impact marine habitats? Will understanding the geology, substrate, and topography of the Salish Sea floor provide answers to these questions? Come find out.